2005 | OriginalPaper | Buchkapitel
Hydrogeophysical characterization of subsurface solute transport at the Krauthausen test site: experiments and numerical modelling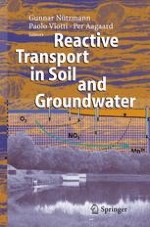 Erstes Kapitel lesen
Autoren: H. Vereecken, A. Kemna, A. Tillmann, J. Vanderborght, A. Verweerd
Verlag: Springer Berlin Heidelberg
We demonstrate the potential of geophysical methods, in particular Electrical Resistance Tomography (ERT) in conjuction with tracer experiments, to derive hydraulic variables (e.g. velocity) and solute transport parameters (e.g. dispersivity) in subsurface environments. For this purpose, real tracer experiments were monitored using crosshole time-lapse ERT at reference planes at the Krauthausen test site. Numerical inversion of an ERT dataset obtained from a numerical tracer experiment in a heterogeneous 3D flow domain reveals that the 2D distribution of the bulk electrical conductivity field at selected reference planes can be recovered. In 2000, a first small-scale tracer experiment at the Krauthausen field site combined with ERT was performed to monitor the change in bulk electrical conductivity at a reference plane.
The imaged bulk electrical conductivity changes were transformed to local concentrations using an empirically derived relation with the tracer (bromide) concentration. The spatial variation of the stream tube local dispersion and stream tube velocity in the reference plane was then derived. This information can also be used to derive inversely the statistical properties (variance and correlation length) of the hydraulic conductivity field. In 2002 and 2003, a larger scale 'positive' and 'negative' tracer experiment was conducted with the tracer electrical conductivity larger and smaller, respectively, than the groundwater electrical conductivity. The negative tracer experiment was conducted to avoid downward movement of the plume such that it passes through the most sensitive part of the ERT-image plane.
To improve the imaging of solute concentrations, a new Magnetic-Electrical-Resitivity-Imaging-Technique (MERIT) is being developed which uses the additional information contained in the magnetic field strength. In a first step, this technique is being made available at column and lysimeter scale. In a further step, MERIT will also be developed for field scale applications.