01.04.2014 | Research Paper | Ausgabe 4/2014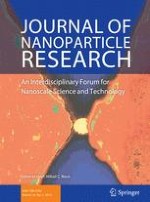 Hydrophilic azlactone-functionalized magnetite nanoparticle for conjugation with folic acid
Zeitschrift:
Autoren:

Yingrak Pray-in, Boonjira Rutnakornpituk, Uthai Wichai, Tirayut Vilaivan, Metha Rutnakornpituk
Wichtige Hinweise
Electronic supplementary material
The online version of this article (doi:
10.​1007/​s11051-014-2357-7
) contains supplementary material, which is available to authorized users.
Abstract
Herein, we report the synthesis of magnetite nanoparticles (MNPs) grafted with poly(poly(ethylene glycol) methyl ether methacrylate-
stat
-2-vinyl-4,4-dimethylazlactone) copolymers (poly(PEGMA-
stat
-VDM)) prepared via a surface-initiated atom transfer radical polymerization (ATRP) and used for the immobilization of folic acid (FA). The MNPs were synthesized using a thermal decomposition method and surface functionalized to obtain ATRP-initiating sites. The particle size was in the range of 5–10 nm with the average of 8.0 ± 1.2 nm in diameter. Molar ratio of PEGMA to VDM was systematically varied (0/100, 30/70, 50/50, and 70/30, respectively) in the copolymerization to obtain water dispersible MNP with various amounts of azlactone rings, an electrophilic moiety, on its surface. Grafting density of VDM on the particle surface increased with increased VDM loading in the copolymerization reaction. These copolymer-coated MNPs were well dispersible in water with some nano-scale aggregation after FA functionalization due to hydrophobic character of FA. Since FA is a cancer cell targeting agent, it is anticipated that these novel FA-functionalized MNPs could be used as magnetically guidable vehicle for drug delivery, particularly for cancer treatment. The results of this study warrant a future investigation of this promising system.