01.03.2015 | Original Paper | Ausgabe 5/2015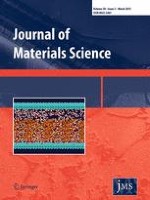 Hydrophilic poly-ether side-chained benzodithiophene-based homopolymer for solar cells and field-effect transistors
Zeitschrift:
Autoren:

Qian Liu, Xichang Bao, Yan Yan, Zhengkun Du, V. A. L. Roy, Dangqiang Zhu, Mingliang Sun, Chun Sing Lee, Renqiang Yang
Abstract
Two benzodithiophene (BDT)-based homopolymers which have different mole ratios of poly-ether side chain substitute were synthesized by Stille coupling reaction. The polymers show decomposition temperature (
T
d
) around 317 °C and optical band gap around 2.2 eV. Solar cell devices with bulk heterojunction structure and field-effect transistors devices were fabricated to evaluate the photovoltaic properties of resultant polymers. Solar cell devices based on the polymer with 100 % poly-ether side chain (P1) show low power conversion efficiencies (PCEs) of 0.71 % resulting from the poor morphology of active layer which has rough surface and fairly large domain size due to the high aggregation tendency of P1:PCBM ([6,6]-phenyl-C61-butyric acid methyl ester) blend thin film as active layer in the structure of devices. Polymer with alternating poly-ether and alkoxy chained BDT (P2) and PCBM blend film shows smooth surface and appropriate domain size, which help to enhance the hole transportation and photovoltaic performances. The PCEs of the devices based on P2 reached 2.00 % which is a decent result for BDT-based homopolymer donor with relatively large band gap (ca. 2.2 eV). These two polymers exhibited mobilities of 3.95 × 10
−4
and 6.18 × 10
−4
cm
2
/Vs in field-effect transistors, respectively.