01.10.2011 | Ausgabe 20/2011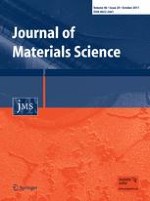 Hydrophobic properties and color effects of hybrid silica spin-coatings on cellulose matrix
Zeitschrift:
Autoren:

Yunjie Yin, Chaoxia Wang, Chunxia Wang, Min Wu, Anli Tian, Shaohai Fu
Abstract
A novel sol–gel derived organic–inorganic hybrid silica sol consisting of organic direct red dye 4BS and inorganic silica (SiO
2
) is successfully synthesized by adding coupling agent γ-chloropropyltriethoxysilane (CPTS). Hybrid silica coatings are deposited on cellulose matrix surface via spin-coating approach to introduce effective hydrophobic and color properties. Compared to the dye hybrid silica sol (DHSS), the particle size of CPTS/dye hybrid silica sol (CDHSS) increases from 64.51 to 129.70 nm, while the surface tension reduces from 34.27 × 10
−3
N m
−1
to 31.22 × 10
−3
N m
−1
. The hydrostatic pressure of the cellulose matrix coating with CDHSS is 4530.5 Pa, the contact angle is 131.48°, and the wetting time is ~150 min, which attributes to the alkyl chloride aliphatic chain and sharp micro-surface roughness of the hybrid coatings validated directly by AFM and SEM images. The
K
/
S
value (5.15) of the cellulose matrix coated with CPTS/dye hybrid silica (CMCCDHS) is 12.44% higher than that of the cellulose matrix coated with dye hybrid silica (CMCDHS), and increased by 30.38% relative to the control coated sample. The maximum absorption wavelengths of the matrixes treated with different processes are the same as the maximum absorption wavelength of the silica sols (510 nm).