01.03.2015 | Original Paper | Ausgabe 3/2015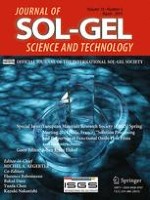 Hydrothermal growth of bilayered rutile-phased TiO2 nanorods/micro-size TiO2 flower in highly acidic solution for dye-sensitized solar cell
Zeitschrift:
Autoren:

M. K. Ahmad, V. M. Mohan, K. Murakami
Abstract
Aligned rutile-phased TiO
2
(r-TNRs) nanorods and micro-size rutile-phased TiO
2
flowers (r-TFs) films were prepared on fluorine-doped tin oxide (FTO) substrate using highly acidic solution by two steps of hydrothermal process. The hydrothermal process was done at 150 °C in 5 h for the first step and 2 h for the second step. These films were used as a photoelectrode in dye-sensitized solar cell (DSC) application. Aligned r-TNRs and r-TFs were prepared using one-step and two-step hydrothermal processes, respectively. At the end of second step hydrothermal process, micro-size rutile-phased TiO
2
flowers (r-TFs) were observed on top of r-TNRs (FTO/r-TNRs/r-TFs). Power conversion efficiencies for both aligned r-TNRs and r-TNRs/r-TFs were compared. From the results, DSC made of r-TNRs only produced energy conversion efficiency of 1.52 % and DSC made of r-TNRs/r-TFs gave excellent energy conversion efficiency (
η
) of 4.27 %.