2017 | OriginalPaper | Buchkapitel
14. Hydrothermal Pretreatment Using Supercritical CO2 in the Biorefinery Context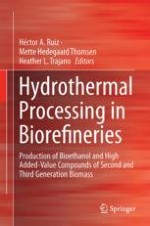 Erstes Kapitel lesen
Autoren: Ana Rita C. Morais, Rafal M. Lukasik
Abstract
Supercritical fluids have been receiving an increasing attention in biorefinery processes due to guarantying high reaction yields and selectivities. In addition, supercritical fluids, especially CO2, permit to avoid the use of additional catalyst simplifying downstream processing. These benefits are a result of their unique physicochemical proprieties, which are easily adjustable just by slight changes of operational temperature and pressure.
This chapter provides state-of-the-art about the biomass processing in hydrothermal media with supercritical CO2 within biorefinery context. The biomass pretreatment with water is addressed briefly since it is inherently associated. In an effort to demonstrate the employment of supercritical CO2 as a catalyst in hydrothermal pretreatment, the knowledge concerning phase behaviour of CO2 and water mixture is reported. In particular, the role of supercritical CO2 in the perspective of enzymatic valorisation of cellulose is explored thoroughly. This chapter addresses also the importance of supercritical CO2 addition to hydrothermal technologies in the processing of hemicellulose and lignin into C5-sugars and phenolic products, respectively.
Finally, the critical outlook and perspectives of high-pressure biomass pretreatment with supercritical CO2 is given.