2017 | OriginalPaper | Buchkapitel
21. Hydrothermal Processing of Microalgae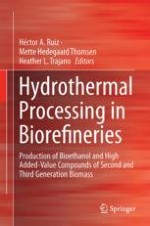 Erstes Kapitel lesen
Autoren: Cristina González-Fernández, Lara Méndez, Mercedes Ballesteros, Elia Tomás-Pejó
Abstract
As a result of the increasing population and industrial development, there is an enormous energy demand worldwide. For this reason, the research on the potential of microalgae (including also cyanobacteria) as a third-generation feedstock for bioenergy production has markedly increased. Besides biofuels (biogas, bioethanol, biodiesel, etc.), algae biomass is one of the most promising feedstock to produce high-value products in a sustainable way.
The use of microalgae has many advantages over first- and second-generation raw materials. This is due to their fast growth rates due to an efficient solar conversion into biomass; capability of growing under several conditions, including in wastewater; reduced need for water and other resource inputs; and the possibility of not using arable lands for their cultivation.
Independently of the product of interest, most of the production processes from microalgal biomass need some hydrothermal processing step. This implies a pretreatment step at high temperature, even at high pressure, with or without acid addition. Hydrothermal pretreatment may disrupt microalgae cell wall for biogas production or can involve partial biomass hydrolysis as it is the case for bioethanol production.
This chapter includes an updated revision of hydrothermal treatments commonly used to process microalgal biomass mainly for biofuels production and resumes how different temperatures and other treatment parameters affect final product titers and yields.