01.08.2016 | Research Paper | Ausgabe 8/2016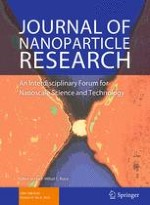 Hydrothermal synthesis of cobalt oxide porous nanoribbons anchored with reduced graphene oxide for hydrogen peroxide detection
Zeitschrift:
Autoren:

Xinmeng Zhang, Kezhi Li, Hejun Li, Jinhua Lu, Qiangang Fu, Leilei Zhang
Abstract
A new Co
3
O
4
-reduced graphene oxide (Co
3
O
4
–rGO) nanostructure was successfully prepared by hydrothermal-synthesized Co
3
O
4
porous nanoribbons with an approximate length of 6–17 μm, a width of 21–737 nm, and a thickness of 33–80 nm hybridizing with reduced graphene oxide. The electrochemical properties of the Co
3
O
4
–rGO-modified electrode were investigated by the cyclic voltammograms and amperometric current–time method. The modified electrode shows high electrochemical activity for the catalytic reduction and detection of H
2
O
2
in alkaline medium. The nonenzymatic hydrogen peroxide sensor exhibits wide linear range of 1–18.5 mM (
R
= 0.99439), high adsorption amount about 3.24 × 10
−6
mol/cm
2
, and a low detection limit of 5.35 × 10
−7
M (
S
/
N
= 3). In addition, the sensor has a fast response (<5 s), good long-term stability, excellent repeatability (3.22 % relative standard deviation), and high selectivity. These outstanding properties of the sensor derive from their particular hybrid structure and synergistic effects between rGO and Co
3
O
4
.