01.02.2017 | Research Paper | Ausgabe 2/2017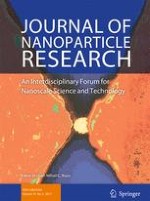 Hyperbranched–dendrimer architectural copolymer gene delivery using hyperbranched PEI conjugated to poly(propyleneimine) dendrimers: synthesis, characterization, and evaluation of transfection efficiency
Zeitschrift:
Autoren:

Seyyed Jamal Alavi, Leila Gholami, Saeedeh Askarian, Majid Darroudi, Abdolhossein Massoudi, Mehdi Rezaee, Reza Kazemi Oskuee
Wichtige Hinweise
Electronic supplementary material
The online version of this article (doi:
10.​1007/​s11051-017-3739-4
) contains supplementary material, which is available to authorized users.
Abstract
The applications of dendrimer-based vectors seem to be promising in non-viral gene delivery because of their potential for addressing the problems with viral vectors. In this study, generation 3 poly(propyleneimine) (G3-PPI) dendrimers with 1, 4-diaminobutane as a core initiator was synthesized using a divergent growth approach. To increase the hydrophobicity and reduce toxicity, 10% of primary amines of G3-PPI dendrimers were replaced with bromoalkylcarboxylates with different chain lengths (6-bromohexanoic and 10-bromodecanoic). Then, to retain the overall buffering capacity and enhance transfection, the alkylcarboxylate–PPIs were conjugated to 10 kDa branched polyethylenimine (PEI). The results showed that the modified PPI was able to form complexes with the diameter of less than 60 nm with net-positive surface charge around 20 mV. No significant toxicity was observed in modified PPIs; however, the hexanoate conjugated PPI–PEI (PPI-HEX-10% PEI) and the decanoate conjugated PPI–PEI (PPI-DEC-10%-PEI) showed the best transfection efficiency in murine neuroblastoma (Neuro-2a) cell line, even PPI-HEX-10%-PEI showed transfection efficiency equal to standard PEI 25 kDa with reduced toxicity. This study suggested a new series of hyperbranched (PEI)–dendrimer (PPI) architectural copolymers as non-viral gene delivery vectors with high transfection efficiency and low toxicity.
×