2019 | OriginalPaper | Buchkapitel
I am Open to Eat What is in Front of Me in the Host Country: A Comprehension of Expatriates' Acculturation: An Abstract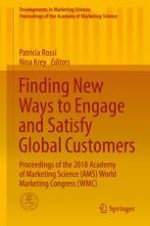 Erstes Kapitel lesen
Autoren: Raficka Hellal-Guendouzi, Sihem Dekhili
Abstract
With the rise of globalization and trade in the late twentieth century, global mobility is a growing phenomenon. During the last 50 years, it is believed that around 214 million people have moved internationally, leaving their country of origin (Human Mobility and Development Report, Klugman 2009). Globalization, technological advances, and transport development have not only largely contributed to the increase in the flow of goods and services but also of people (Appadurai 1990). This leads to the inevitable consequence that millions of consumers are exposed to multiple cultural environments and contacts.
When people of different cultures come into contact, we observe the phenomenon of "acculturation." This latter affects all aspects of the individual's life intertwined with another culture. When acculturation impacts the consumption and purchase behavior of a migrant in a new cultural environment, this is called "consumer acculturation," which is a subset of acculturation (O'Guinn et al. 1986).
The aim of this study is to explore the different modes of food acculturation which develop among professional expatriates. Firstly, we will examine how food consumption behavior is influenced by the consumers' culture of origin and that of the host (sub)culture(s). Secondly, we will assess how expatriate food consumption is altered by the accumulative effects of previous acculturation experiences and diverse cultural contacts.
We used a qualitative approach based on the life-story method. We interviewed in depth 25 American, British, and German professional expatriates who came to the Alsace area (France) in the framework of an international assignment or as self-initiated expatriates. Our sample meets the different characteristics we targeted (age, gender, family situation, culture of origin, previous experiences of acculturation, and cultural contacts). A first thematic analysis was carried out manually to identify the most recurring and common themes on food consumption behavior and the different acculturation modes of expatriates settled in Alsace.
Our study shows flexible modes of food acculturation for expatriates who do not adopt a single and unique acculturation mode, but rather different mixed modes such as maintaining specific habits from the homeland, adopting host culture eating habits, and being open to international food. Finally, local Alsatian food is viewed as one option among the whole variety of foods that the host country could offer to the expatriates.
References Available Upon Request