18.10.2019 | Ausgabe 4/2020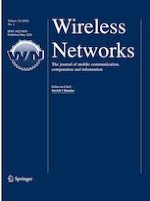 I-CARES: advancing health diagnosis and medication through IoT
Zeitschrift:
Autoren:

Ghazanfar Latif, Achyut Shankar, Jaafar M. Alghazo, V. Kalyanasundaram, C. S. Boopathi, M. Arfan Jaffar
Wichtige Hinweise
Publisher's Note
Springer Nature remains neutral with regard to jurisdictional claims in published maps and institutional affiliations.
Abstract
Internet of Things (IoT) is changing the way many sectors operate and special attention is paid to promoting healthy living by employing IoT based technologies. In this paper, a novel approach is developed with IoT prototype of Wireless Sensor Network and Cloud based system to provide continuous monitoring of a patient's health status, ensuring timely scheduled and unscheduled medicinal dosage based on real-time patient vitals measurement, life-saving emergency prediction and communication. The designed integrated prototype consists of a wearable expandable health monitoring system, Smart Medicine Dispensing System, Cloud-based Big Data analytical diagnostic and Artificial Intelligence (AI) based reporting tool. A working prototype was developed and tested on few persons to ensure that it is working according to expected standards. Based on the initial experiments, the system fulfilled intended objectives including continuous health monitoring, scheduled timely medication, unscheduled emergency medication, life-saving emergency reporting, life-saving emergency prediction and early stage diagnosis. In addition, based on the analysis reports, physicians can diagnose/decide, view medication side effects, medication errors and prescribe medication accordingly. The proposed system exhibited the ability to achieve objectives it was designed using IoT to alleviate the pressure on hospitals due to crowdedness in hospital care and to reduce the healthcare service delays.