2018 | OriginalPaper | Buchkapitel
9. I Have Cleansed My Honour: Multiculturalism and the Dutch Pillar System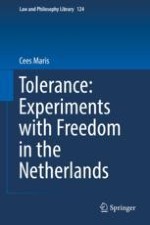 Erstes Kapitel lesen
Autor: Cees Maris
Abstract
This chapter discusses Dutch tolerance in relation to cultural minorities that endorse illiberal traditions. The influx of immigrants from foreign cultures raises two related questions. First, should the state accommodate cultural and ethnic minorities via special group-related rights to cultural identity, as Liberal Multiculturalists (Raz, Kymlicka and Carens) advocate? If so, would the proven Dutch pillar tradition provide an adequate integration model (in line with Lijphart's
Consociationalism
)? It is argued that both liberal multiculturalism and consociationalism in the form of a Muslim pillar are inadequate.
The second question concerns the limits of liberal tolerance: to what extent should illiberal traditions of cultural minorities be tolerated? The custom of honour killing among immigrants from Turkey serves as a test case. The harm principle provides the answer: actions that affect the basic rights of others may be prohibited, even if they are valuable from the perspective of the immigrant culture. This also protects individual members of the cultural group in question. Honour killings violate the basic right to life, therefore perpetrators cannot, with an appeal to a
cultural defence
, claim to be acquitted or to receive a reduced sentence.