18.09.2017 | Ausgabe 1/2018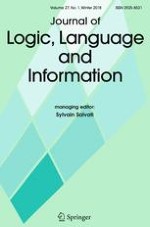 Idempotency, Output-Drivenness and the Faithfulness Triangle Inequality: Some Consequences of McCarthy's (2003) Categoricity Generalization
Zeitschrift:
Autor:

Giorgio Magri
Wichtige Hinweise
The research reported in this paper has been supported by a Marie Curie Intra European Fellowship (Grant Agreement Number: PIEF-GA-2011-301938) and by an MIT-France seed Grant. Parts of this paper have been presented at WCCFL 33 in March 2015; at the EPG (Experimental Phonology Group) seminar at Utrecht University in June 2015; at the LSA Workshop on Computational Phonology and Morphology at the University of Chicago in July 2015; at the Rutgers Optimality Research Group in September 2015; at OCP 13 in January 2016; and at MIT in April 2016. Feedback from those audiences is gratefully acknowledged. Finally, I would like to thank Bruce Tesar for very useful comments on earlier versions of this paper.
Abstract
Idempotency
requires any phonotactically licit forms to be faithfully realized.
Output-drivenness
requires any discrepancies between underlying and output forms to be driven exclusively by phonotactics. These formal notions are relevant for phonological theory (they capture counter-feeding and counter-bleeding opacity) and play a crucial role in learnability. Tesar (Output-driven phonology: theory and learning. Cambridge studies in linguistics,
2013
) and Magri (J of Linguistics,
2017
) provide tight guarantees for OT output-drivenness and idempotency through conditions on the faithfulness constraints. This paper derives analogous faithfulness conditions for HG idempotency and output-drivenness and develops an intuitive interpretation of the various OT and HG faithfulness conditions thus obtained. The intuition is that faithfulness constraints measure the phonological distance between underlying and output forms. They should thus comply with a crucial axiom of the definition of distance, namely that any side of a triangle is shorter than the sum of the other two sides. This intuition leads to a
faithfulness triangle inequality
which is shown to be equivalent to the faithfulness conditions for idempotency and output-drivenness. These equivalences hold under various assumptions, crucially including McCarthy's (Phonology 20(1):75–138,
2003b
) generalization that (faithfulness) constraints are all
categorical
.