01.05.2019 | Original Article | Ausgabe 10/2019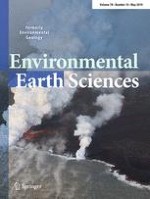 Identification and characterisation of heavy metals in farmland soil of Hunchun basin
Zeitschrift:
Autoren:

Xiaodong Guo, Qifa Sun, Yongsheng Zhao, He Cai
Wichtige Hinweise
Publisher's Note
Springer Nature remains neutral with regard to jurisdictional claims in published maps and institutional affiliations.
Abstract
To understand the characteristics such as the pollutants and the sources of heavy metals in the Hunchun basin farmland soil, soil samples were collected and the contents of As, Hg, Cu, Pb, Zn, Cr, Ni, and Cd were measured. The enrichment factor (EF) was calculated. Multiple statistical analyses including correlation analysis and principal component analysis was executed. The results show that the mean contents of As Hg, Cu, Pb, Zn, Cr, Ni, and Cd were 9.09 mg kg−1, 0.06 mg kg−1, 20.17 mg kg−1, 23.34 mg kg−1, 68.25 mg kg−1, 65.02 mg kg−1, 22.91 mg kg−1, and 0.12 mg kg−1, respectively in the Hunchun basin. The values of the mean content were not above the criterion of the China Standard of Soil Environmental Quality (GB15618-1995, CSSEQ). The contents of Pb and Zn were lower than the background values of Jilin province. However, the contents of the other heavy metals exceeded the background values, particularly for Hg. More than 20% of the samples were significantly polluted by Hg, according to the EF, and less than 10% by other elements. The main sources of mercury in the Hunchun basin are artificial activity such as the lighting of coal fires by power stations and loose residents, dusts arising from coal transport, pesticides, and fertilizers. The other heavy metals reach along with the parent material in the whole area. However, in the high enrichment area, the sources of Cu, Zn, and Cd were farming, communications, and transportation; the sources of As are sewage irrigation, pesticides, and fertilizers; the sources of Pb are communication and transportation; the sources of Cr are dusts from the mining, transport, and burning of coal.