01.01.2014 | Original Article | Ausgabe 1/2014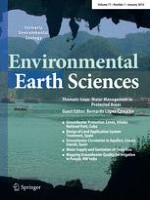 Identification of algal blooms based on support vector machine classification in Haizhou Bay, East China Sea
Zeitschrift:
Autoren:

Yong Xu, Changchun Cheng, Ying Zhang, Dong Zhang
Abstract
Harmful algal blooms commonly known as red tides have been observed at increasing frequencies, which are causing serious economic and ecologic problems in Haizhou Bay off the eastern coast of China. It is important to study the inducing factors of red tides including a wide variety of environmental variables and the complex interactions between them. This study explores the possibility of predicting the occurrence of red tides using support vector machine (SVM) with environmental variables. Seventeen in situ environmental variables which are known to affect the occurrence of red tides were collected between May and October of 2004–2006. Seven characteristic factors were extracted from these variables via factorial analysis to reduce computation complexity. Three of them are related to nutrients, others are contributed by temperature, oxygen depletion, pH, hydrodynamics, and precipitation, respectively. The classification models based on SVM were constructed to identify the red tides samples using the seven factors as independent variables and radial basis function as the kernel function. The model with the combination parameters of
C
= 10,
γ
= 0.7, and
ζ
= 0.1 has the highest accuracy of 92.06 %. It indicates that the model is highly valuable in predicting the occurrence of red tides by environmental variables in this region for its conservative threshold of surface algae concentration.