01.06.2015 | Original Article | Ausgabe 12/2015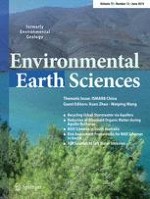 Identification of anthropogenic contaminant sources in urbanized streams using multiple isotopes
Zeitschrift:
Autoren:

Woo-Jin Shin, Jong-Sik Ryu, Kwang-Sik Lee, Youngyun Park
Wichtige Hinweise
W.-J. Shin and J.-S. Ryu have contributed equally to this work.
Abstract
Water samples were collected from three streams flowing through the metropolitan city of Daejeon in South Korea to identify controls on the composition of dissolved ions in stream waters. The seasonal and spatial variations in the concentrations of the dissolved ions were examined and the major contaminant sources were identified using multiple isotopes. All streams exhibited gradual increases in Cl, NO3, and SO4 concentrations as water flowed downstream; the water types were changed from Ca–HCO3 to Ca–(Cl, NO3, SO4). Combined δ15NNO3 and δ18ONO3 data revealed that the dissolved NO3 was mainly derived from manure or sewage, with partial contributions from NH4 fertilizer in summer. The δ34SSO4 and SO4 concentrations in the stream waters indicated that the dissolved sulfates were derived from contaminants, such as sewage, detergent, and chemical fertilizer supplied discriminately to each stream along its course. The 87Sr/86Sr ratios combined with the Sr and Cl concentrations suggest that sewage associated with chemical fertilizer rather than detergent contributed significantly to the dissolved Sr in all the streams.