2006 | OriginalPaper | Buchkapitel
Identification of areas of seabird concentrations in the German North Sea and Baltic Sea using aerial and ship-based surveys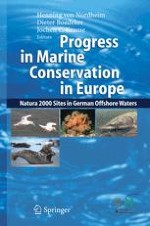 Erstes Kapitel lesen
Autor: Dr. Stefan Garthe
Verlag: Springer Berlin Heidelberg
This paper gives a brief overview of the field methods used to study the distribution of seabirds at sea in the German parts of the North and Baltic Seas. It demonstrates how the data were analysed, how seabird concentrations may be delineated, and how suggestions for protected areas were derived from the data.
Seabird distribution was studied by transect counts from ships and aircraft. Species distribution maps produced from these data are based on densities. The distribution of widely dispersed species, e.g., lesser black-backed gull (
Larus fuscus
) and northern fulmar (
Fulmarus glacialis
), were analysed using grid maps. For species occurring in concentrations, a spatial interpolation procedure using ordinary kriging was adopted. Examples of distributions and maps are given for long-tailed duck (
Clangula hyemalis
; Baltic Sea), common eider (
Somateria mollissima
; Baltic Sea) and red-throated and black-throated divers (
Gavia stellata
and
G. arctica
; North Sea). For all specially important species (i.e., species listed in Annex I of the EU Birds Directive that should be the subject of special conservation measures, e.g., red-throated diver and sandwich tern
Sterna paradisaea
), concentration areas were identified and subsequently combined so that a set of potential areas for conservation could be determined. From this map, potential Special Protection Areas (SPAs) were established.
Finally, this paper briefly discusses field methods and methods of analysis and gives further recommendations.