2006 | OriginalPaper | Buchkapitel
Identification of Damage in Multispan Beams Using Parameter-dependent Frequency Changes and Neural Networks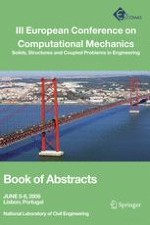 Erstes Kapitel lesen
Autoren: Artur Borowiec, Leonard Ziemiański
Verlag: Springer Netherlands
Nowadays the knowledge of the structure condition is considered to be more and more important. The state of the structure and its safety strongly depends on the degradation of the structure elements (beams, connections, etc.). Nondestructive methods predict the location and the extent of damage in existing engineering structures. The publications on the identification of damages present mainly the approach which implies the knowledge of eigenfrequencies and eigenmodes of an undamaged structure. The damage is identified on the basis of the variations of dynamic parameters with respect to the initial values [
1
]. Some methods require the introduction of external perturbations to the structure.
The detection method, which provides the global assessment of damage, is usually not sensitive to the size of the damage. In paper by Dems et al. [
2
] to increase the accuracy of identification an additional parameter is introduced (namely concentrated elastic or rigid support, additional mass elastically or rigidly attached to the structure, boundary constraint). This paper is intended to provide the analysis of eigenvalues with respect to the additional mass [
4
] and the application of ANNs [
3
] to the damage identification. ANN is applied for the analysis of dynamic response of a structure and for the assessment of the structure condition. Herein three examples are discussed, in all of them ANNs are applied to develop a new method of identification. The assessment of the state of the considered structure relies, in the case of application of the proposed extended identification method, on the comparison of structure eigenfrequencies obtained from the systems with additional masses placed in different nodes. The differences in the source of information employed to identify the location and the extent of the damage. The additional parameter introduced to the structure increases the identification accuracy. The Artificial Neural Networks are able to locate the damage and the extent of the structure degradation. The obtained results show that it is possible to identify the damage using the dynamic responses of the structure. The results presented in this paper are very promising, in the next step more complicated structure will be taken into account. Moreover other perturbations should be also considered.