01.04.2020 | Original Article | Ausgabe 8/2020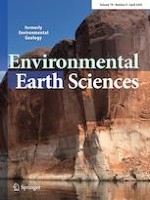 Identification of hydrochemical processes using multivariate statistics in a complex aquifer system of Sohag region, Egypt
Zeitschrift:
Autoren:

Ibrahim Said, Christoph Merz, Salman Abd El-Raof Salman, Michael Schneider, Andreas Winkler
Wichtige Hinweise
Publisher's Note
Springer Nature remains neutral with regard to jurisdictional claims in published maps and institutional affiliations.
Abstract
Spatial variation of hydrochemical groundwater parameters indicates that the chemistry is ruled by complex process interactions (mixing of natural and anthropogenic processes). For this approach, analysis of 32 groundwater wells was conducted. Anthropogenic-influenced surface recharge and geogenic processes such as silicate weathering and redox process are identified by multivariate statistics, principal component analysis (PCA) and cluster analysis (CA). Surface water recharge tops the list of factors affecting groundwater chemistry in the Sohag area. The main recharging sources are leaching of salts of overlain soils and irrigation canals associated with anthropogenic impacts such as domestic sewage and agricultural nutrients. The excess of SO42− and HCO3− relative to Ca2+ in the semiconfined shallow aquifer at the floodplain can be attributed to the anthropogenic influence, infiltrated irrigation water and wastewater. On the other hand, in deep wells at the desert fringes, the deficiency of SO42− relative to Ca2+ concentration (however the dissolution of gypsum modeled by MINTEQ) is evidence on sulfides precipitation under reducing conditions as confirmed by the PCA analysis. Ion exchange on clay is another possible reason responsible for the deficiency of Ca2+ + Mg2+/SO42− + HCO3− relative to Na+/Cl− in semiconfined aquifer. Different water types (Na–Cl, Ca–Cl, Mg-–Cl and Na–HCO3) indicate different ion exchange processes formed due to varying contacts between freshwater and saline water. Excessive Mn/Fe ratio is attributed to fertilization and redox processes. Results enable the spatial separation of wells under semiconfined hydraulic conditions recharged by infiltrated irrigation water, from those under unconfined conditions recharged by seepage water leaching salty soils. Accordingly, different water types and values of salinity are complex and could be identified and spatially separated using AqQa and statistical analysis.