01.03.2017 | ORIGINAL ARTICLE | Ausgabe 1/2018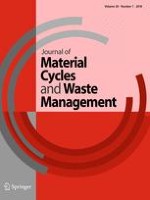 Identification of microbial populations contributing to nitrification-associated nitrous oxide emission during cattle manure composting process with forced aeration
Zeitschrift:
Autoren:

Daisuke Inoue, Kazuko Sawada, Hirofumi Tsutsui, Taku Fujiwara
Abstract
This study was conducted to clarify the fates of whole nitrogen cycle-associated microorganisms during laboratory-scale composting of cattle manure with continuous forced aeration, with the primary goal of identifying microbial populations that contributed greatly to high nitrous oxide (N
2
O) emissions triggered by nitrification. DNA microarray analysis targeting functional genes associated with the entire microbial nitrogen cycle was applied for the first time to investigate the fates of entire nitrogen cycle-associated microbial community during composting, and revealed increased diversity of nitrogen cycle-associated microorganisms, including ammonia-oxidizing populations, during active nitrification and N
2
O emission periods. Further analyses of the compositions of ammonia-oxidizing populations by DNA microarray, PCR-denaturing gradient gel electrophoresis and clone library methods revealed that
Nitrosomonas europaea, Nitrosomonas eutropha
, and their relatives were the dominant ammonia-oxidizing populations. Overall, the analyses of entire nitrogen cycle-associated microbial community and specific functional groups by a combination of different molecular biological methods in this study could confirm that
N. europaea
/
eutropha
and their relatives contributed greatly to high N
2
O emissions via active nitrification during cattle manure composting with forced aeration.