10.07.2021 | ORIGINAL ARTICLE | Ausgabe 7-8/2021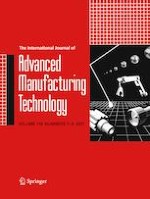 Identification of the speed-varying dynamic behaviors of tool center point based on semi-theoretical methodology
Autoren:

Teng Hu, Weizhen Ma, Xiaohu Wang, Hualin Zheng, Liang Mi
Wichtige Hinweise
The authors declare that this article is original and has never been published elsewhere in any form or language.
Publisher's note
Springer Nature remains neutral with regard to jurisdictional claims in published maps and institutional affiliations.
Abstract
Since the high-speed effects comprising centrifugal forces, gyroscopic moments, and rolling bearing thermal preload have considerable impacts on the dynamic behaviors of spindle units, it is of significance to study speed-varying characteristics of tool center point (TCP) dynamic behaviors. A semi-theoretical methodology is presented in this paper to identify the TCP speed-varying dynamic parameters, i.e., modal frequency, modal stiffness, and modal damping ratio. Cutting stability under an operational state is theoretically predicted and experimentally calibrated, in terms of axial limit stable cutting depth and chatter frequency. All the derived outcomes are subscribed into an optimization model whose objective is to minimize the deviations between predicted and calibrated cutting stability by searching the actual dynamic parameters of TCP. An integrated algorithm is designed to obtain the global optimized solutions so that the speed-varying dynamic parameters of TCP can be identified. A vertical machining center is selected as the platform to apply and validate the proposed methodology. The results indicate that speed dependent dynamic parameters of TCP can be accurately identified by adopting the proposed methodology, leading to accurate predictions of cutting stability with respect to the corresponding spindle speeds. Experimental validations presented in this paper also suggest that the identified speed-varying dynamic parameters can be used for predicting cutting stability at the adjacent speeds, where the relative errors are acceptable for engineering applications, achieving much more accurate cutting stability predictions than adopting TCP dynamic parameters under idle state.