2006 | OriginalPaper | Buchkapitel
Identification of Time-Varying Structures Under Unobservable Excitation: An Overview and Experimental Comparison of Parametric Methods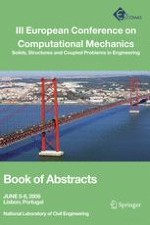 Erstes Kapitel lesen
Autoren: Aggelos G. Poulimenos, Minas D. Spiridonakos, Spilios D. Fassois
Verlag: Springer Netherlands
This paper addresses the problem of parametric time-domain identification and dynamic analysis for time-varying mechanical structures under unobservable random excitation. The identification uses Time-dependent AutoRegressive Moving Average (TARMA) models (or state-space equivalents), which are conceptual extensions of their conventional (time-invariant) ARMA counterparts in that their parameters and innovations variance are varying with time. TARMA methods may be classified according to the type of mathematical structure imposed upon the evolution of the model parameters as follows: (a) Unstructured parameter evolution methods, (b) stochastic parameter evolution methods, and (c) deterministic parameter evolution methods [
1
]. The characteristics and relative merits of each class are outlined.
A representative method from each class is then applied to the modelling of a time-varying (moving) laboratory structure. This structure consists of a beam with a cylindrical mass sliding on it at a selected speed. The setup is meant to model a "bridge-like" structure with a heavy vehicle travelling along its length. The beam is subject to broadband random force excitation, while structural identification is solely based upon its vertical acceleration response. The methods applied are: The Recursive Maximum Likelihood TARMA (RML-TARMA) method (unstructured parameter evolution), the Smoothness Priors TARMA (SP-TARMA) method (stochastic parameter evolution), and a Functional Series TARMA (FS-TARMA) method (deterministic parameter evolution) [
1
].
The models obtained by each method are shown to accurately describe the time-varying structural dynamics in terms of the "frozen-time" power spectral density function and the modal quantities. Modelling accuracy is judged based upon "frozen-configuration" (fixed mass location) characteristics of the experimental structure also extracted through "frozen-configuration" (multiple stationary experiments) identification (baseline modelling). The highest tracking accuracy and model parsimony (economy) is exhibited by the deterministic parameter evolution (FS-TARMA) method, followed by the unstructured parameter evolution (RML-TARMA) method, which is in turn followed by the stochastic parameter evolution (SP-TARMA) method. Overall, the results demonstrate the parametric methods' applicability, effectiveness, high potential for parsimonious and accurate identification, and model-based dynamic analysis of time-varying structures under unobservable excitation.