2018 | OriginalPaper | Buchkapitel
Identifier and NameSpaces as Parts of Semantics for e-Government Environment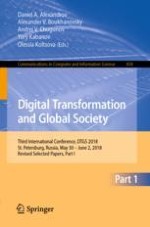 Erstes Kapitel lesen
Autor: Yuri P. Lipuntsov
Abstract
At present, a large number of information systems have been created that operate productively and provide information support of specific functions. Currently, a topical issue is to unite these information systems, create favourable conditions for their information interaction. This task is particularly important for the creation of an information infrastructure in the electronic government, which involves both large-scale state systems and applications automating local functions. The main part of system interoperability is defined by semantics – tools for transfer of meaningful data, information. Semantics in information space is defined by two components: identification of objects and NameSpace.
In different information spaces the problem of semantics provision is solved in a customized way. In semantic web, it is possible to use standard NameSpaces, or create your own one. An automatically generated URI is used as identifiers.
There are alternative options to reproduce semantics in the framework of information infrastructure. In practice, there are cases where identifiers are a profound business key containing information about individual elements of business logic, the result of which is the object described. The article describes examples of such practice and shows elements of the methodology for creating such identifiers.
The second semantics element is the namespace. In this field, serious groundwork has been made in different economy sectors. There is a tendency of interaction between separate dictionaries and development of uniform approaches. This can be implemented through creation of templates.
Currently, the prerequisites for combination of two elements of semantics definition are fulfilled: identifiers and namespaces. This would make it possible to move quickly towards the creation of an e-government information infrastructure.