08.09.2017 | LCI METHODOLOGY AND DATABASES | Ausgabe 8/2018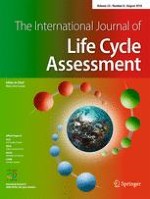 Identifying marginal suppliers of construction materials: consistent modeling and sensitivity analysis on a Belgian case
Zeitschrift:
Autoren:

Matthias Buyle, Massimo Pizzol, Amaryllis Audenaert
Wichtige Hinweise
Responsible editor: Yi Yang
Electronic supplementary material
Abstract
Purpose
The identification of marginal suppliers is a key element of consequential LCA. This study investigates how systematically the identification of marginal suppliers can be performed across different products, while maintaining consistent modeling choices. Some products relevant for the Belgian construction sector are taken as a case study.
Methods
To gain insight in the current practice of identifying marginal suppliers, 30 recent studies have been reviewed. Based on the findings of the review, a method was proposed to identify geographical market boundaries from trade data and sensitive suppliers from production data. Both retrospective and prospective approaches to anticipate the future effect of a change in demand were taken into account. The method was applied to compute both a retrospective and a prospective marginal supplier's mix per product. Finally, the effect of the modeling choices on the size of geographical market boundaries and marginal mixes was estimated via regression analysis.
Results and discussion
The forecasts and marginal mixes obtained matched with those from the existing literature, although clear differences in results are observed between the retrospective and prospective approach. Deviations from default assumptions in LCA were observed as well, such as large regional geographical markets for cement and aggregates instead of local ones. The statistical sensitivity analysis showed that identifying geographical market boundaries has the largest effect on the final marginal mix and that these markets are relative stable over time.
Conclusions
The proposed method and corresponding sensitivity analysis is an attempt to gain insight into the effect of modeling choices in the context of the identification of marginal suppliers for consequential LCA. It can in principle be applied to any product for which trade and production data are available. The proposed method helps to identify marginal mixes on a consistent and transparent way, to improve the robustness of the results in future consequential LCAs.