01.09.2014 | Ausgabe 9/2014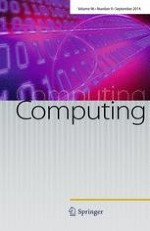 Identity-based deniable authentication for ad hoc networks
Zeitschrift:
Autoren:

Fagen Li, Pan Xiong, Chunhua Jin
Wichtige Hinweise
This work is supported by the National Natural Science Foundation of China (Grant Nos. 60803133, 61073176, 61003230, 61003232, 61103207, 61272525 and 61272404).
Abstract
Deniable authentication is an important security requirement for ad hoc networks. However, all known identity-based deniable authentication (IBDA) protocols are lack of formal security proof which is very important for cryptographic protocol design. In this paper, we propose a non-interactive IBDA protocol using bilinear pairings. Our protocol admits formal security proof in the random oracle model under the bilinear Diffie-Hellman assumption. Our protocol is faster than all known IBDA protocols of its type. In addition, our protocol supports batch verification that can speed up the verification of authenticators. This characteristic makes our protocol useful in ad hoc networks.