2013 | OriginalPaper | Buchkapitel
31. IES: Instrument Exchange System for Minimally Invasive Surgery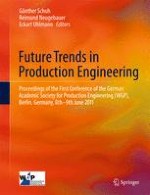 Erstes Kapitel lesen
Autoren: D. Kaltenbacher, T. Cuntz, A. Pfaud, K. Fischer, A. Domnich, J. Stallkamp
Verlag: Springer Berlin Heidelberg
Abstract
In standard laparoscopic procedures, instrument changes account for a significant amount of time; they interrupt the surgeon's concentration and involve a reorientation of the new instrument at the region of interest. To further improve the patients' and surgeons' situation an automated system for fast exchange of laparoscopic instruments is desired. An instrument exchange system (IES) for this purpose has recently been developed at Fraunhofer IPA in Stuttgart, Germany.
The basic approach of the IES is to change from the typical rod- or wire based instruments to capsular instruments that are moved and activated by a hydraulic mechanism. Up to five of these instrument capsules can be exchanged and used with this system.
A specialty of the shown hydraulic approach is that the fluid can both be used to exchange the capsules as well as to activate the instrument itself. This works as follows. After the exchange sequence the instrument capsule is at its activation position pressed against the mechanical stop. When the hydraulic pressure in the working tube gets further increased a piston inside the capsule is forced to move axially towards the distal end of the tube. This piston movement is transmitted inside the capsule into the closure of surgical graspers or scissors.
With using the shown hydraulic system both for activation and exchange of instrument capsules the overall system can be kept small and lightweight – the major advantage of the presented approach. In addition to mentioned graspers and scissors other instruments like electrosurgical ones or even capsular endoscopic cameras could be used and automatically exchanged.
Based on the concept previously described a first prototype of the IES has been realized, assembled and tested. At current state the system is designed to work in combination with a surgical robot. Additionally first instrument capsules have been designed, built up as a prototype and tested in a test rig.
In conclusion an innovative concept for an automatic instrument exchange system (IES) for capsular laparoscopic instruments has been presented. The approach is based one common hydraulic system for both the instrument activation as well as the exchange. With the prototype setups of both, IES and instruments a first proof of concept have been made.
Future developments have to focus on rise of the performance as well as miniaturization of the system in order to make it possible for the surgeon to use it "handheld" without the assistance of a surgical robot.