2015 | Buchreihe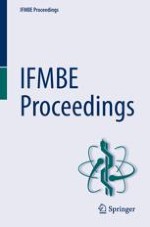 IFMBE Proceedings
91 Jahrgänge | 2007 - 2023
Beschreibung
The IFMBE Proceedings Book Series is an official publication of the International Federation for Medical and Biological Engineering (IFMBE). The series gathers the proceedings of various international conferences, which are either organized or endorsed by the Federation. Books published in this series report on cutting-edge findings and provide an informative survey on the most challenging topics and advances in the fields of medicine, biology, clinical engineering, and biophysics.
The series aims at disseminating high quality scientific information, encouraging both basic and applied research, and promoting world-wide collaboration between researchers and practitioners in the field of Medical and Biological Engineering.
Topics include, but are not limited to:
Diagnostic Imaging, Image Processing, Biomedical Signal Processing
Modeling and Simulation, Biomechanics
Biomaterials, Cellular and Tissue Engineering
Information and Communication in Medicine, Telemedicine and e-Health
Instrumentation and Clinical Engineering
Surgery, Minimal Invasive Interventions, Endoscopy and Image Guided Therapy
Audiology, Ophthalmology, Emergency and Dental Medicine Applications
Radiology, Radiation Oncology and Biological Effects of Radiation
IFMBE proceedings are indexed by SCOPUS, EI Compendex, Japanese Science and Technology Agency (JST), SCImago. They are also submitted for consideration by WoS.
Proposals can be submitted by contacting the Springer responsible editor shown on the series webpage (see "Contacts"), or by getting in touch with the series editor Ratko Magjarevic.