01.04.2015 | Ausgabe 1/2015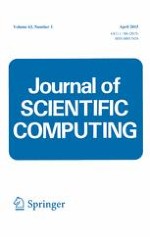 Image Decomposition using a Local Gradient Constraint
Zeitschrift:
Autoren:

Seungmi Oh, Myungjoo Kang
Abstract
In this paper, a new model for structure/texture decomposition using a local gradient constraint is presented. This constraint is used because gradients of the structure component
\(u\)
are close to the gradients of a given noise-free image
\(f\)
in locally piecewise smooth regions. We consider the TV-Hilbert model as a blur and deblur process for image decomposition. By incorporating the additional local constraint of the image gradient into the classical TV-Hilbert model, we derive a new image decomposition model. The proposed model can separate the texture component
\(v\)
from
\(f\)
effectively while preserving sharp edges and maintaining homogeneous regions in the structure component
\(u\)
without producing staircase artifacts. Numerical experiments are performed to demonstrate the efficiency of our model in comparison with well-known image decomposition approaches.