2016 | OriginalPaper | Buchkapitel
Imbalanced ELM Based on Normal Density Estimation for Binary-Class Classification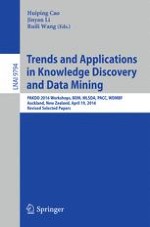 Erstes Kapitel lesen
Autoren: Yulin He, Rana Aamir Raza Ashfaq, Joshua Zhexue Huang, Xizhao Wang
Abstract
The
im
balanced
E
xtreme
L
earning
M
achine based on
k
ernel
d
ensity
e
stimation (imELM-kde) is a latest classification algorithm for handling the imbalanced binary-class classification. By adjusting the real outputs of training data with intersection point of two
p
robability
d
ensity
f
unctions (
p.d.f.
s) corresponding to the predictive outputs of majority and minority classes, imELM-kde updates ELM which is trained based on the original training data and thus improves the performance of ELM-based imbalanced classifier. In this paper, we analyze the shortcomings of imELM-kde and then propose an improved version of imELM-kde. The Parzen window method used in imELM-kde leads to multiple intersection points between
p.d.f.
s of majority and minority classes. In addition, it is unreasonable to update the real outputs with intersection point, because the
p.d.f.
s are estimated based on the predictive outputs. Thus, in order to improve the shortcomings of imELM-kde, an
im
balanced ELM based on
n
ormal
d
ensity
e
stimation (imELM-nde) is proposed in this paper. In imELM-nde, the
p.d.f.
s of predictive outputs corresponding to majority and minority classes are computed with normal density estimation and the intersection point is used to update the predictive outputs instead of real outputs. This makes the training of probability density estimation-based imbalanced ELM simpler and more feasible. The comparative results show that our proposed imELM-nde performs better than unweighted ELM and imELM-kde for imbalanced binary-class classification problem.