Erschienen in: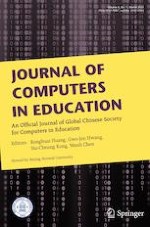 Open Access 11.07.2020
Immersive virtual reality as a pedagogical tool in education: a systematic literature review of quantitative learning outcomes and experimental design
Erschienen in: Journal of Computers in Education | Ausgabe 1/2021
Abstract
The adoption of immersive virtual reality (I-VR) as a pedagogical method in education has challenged the conceptual definition of what constitutes a learning environment. High fidelity graphics and immersive content using head-mounted-displays (HMD) have allowed students to explore complex subjects in a way that traditional teaching methods cannot. Despite this, research focusing on learning outcomes, intervention characteristics, and assessment measures associated with I-VR use has been sparse. To explore this, the current systematic review examined experimental studies published since 2013, where quantitative learning outcomes using HMD based I-VR were compared with less immersive pedagogical methods such as desktop computers and slideshows. A literature search yielded 29 publications that were deemed suitable for inclusion. Included papers were quality assessed using the Medical Education Research Study Quality Instrument (MERSQI). Most studies found a significant advantage of utilising I-VR in education, whilst a smaller number found no significant differences in attainment level regardless of whether I-VR or non-immersive methods were utilised. Only two studies found clear detrimental effects of using I-VR. However, most studies used short interventions, did not examine information retention, and were focused mainly on the teaching of scientific topics such as biology or physics. In addition, the MERSQI showed that the methods used to evaluate learning outcomes are often inadequate and this may affect the interpretation of I-VR's utility. The review highlights that a rigorous methodological approach through the identification of appropriate assessment measures, intervention characteristics, and learning outcomes is essential to understanding the potential of I-VR as a pedagogical method.
Publisher's Note
Springer Nature remains neutral with regard to jurisdictional claims in published maps and institutional affiliations.
Introduction
The increasing financial feasibility of virtual reality (VR) has allowed for educational institutions to incorporate the technology into their teaching. According to research, 96% of universities and 79% of colleges in the UK are now utilising augmented or virtual reality in some capacity (UKAuthority
2019
). In addition, the rising power of personal computers and associated hardware has led to a revolution in graphical fidelity, with ever more complex and realistic simulations and virtual worlds (Slater
2018
). As Dickey (
2005
) alludes to, this has both challenged and expanded the very conceptual definition of what is defined as a learning environment. Where once this would have been restricted to classroom teaching or field trips, VR's innate ability to give users a sense of presence and immersion has opened new possibilities in education if implemented appropriately (Häfner et al.
2018
).
The use of technology-aided education as a pedagogical method is not a modern phenomenon, and investigations into its utility have been studied for almost half a century. As far back as the 1970s, Ellinger and Frankland (
1976
) found that the use of early computers to teach economic principles produced comparative learning outcomes with traditional didactic methods such as lectures. However, as Jensen and Konradsen (
2018
) allude to, it was with the release of the Oculus Rift in 2013 that VR became synonymous with head-mounted-display (HMD) based VR. This had several ramifications. First, HMDs became economically feasible for consumers and educational institutions to acquire
en masse
, due to a significant drop in price (Hodgson et al.
2015
). As Olmos et al. (
2018
) remarks, the economic viability of VR has tackled one of the main entry barriers to adopting the technology. And secondly, academic research into the potential benefits of I-VR in education starts to expand, as well as its applied use in pedagogical settings (Hodgson et al.
2019
). One of VR's most important contributions to education is that it has allowed students to repeatedly practice complex and demanding tasks in a safe environment. This is particularly true of procedural tasks such as surgical operations or dental procedures that cannot be carried out for real until a certain level of competency has been achieved (Alaraj et al.
2011
; Larsen et al.
2012
). Additionally, VR has allowed for students to gain cognitive skills by way of experiential learning, such as exposing them to environments that would be too logistically problematic to visit in reality (Çalişkan
2011
). For instance, by using a HMD, Bailenson et al. (
2018
) were able to expose students to an underwater environment to facilitate learning about climate change. VR has made an important contribution to education in that it has allowed for students to directly experience environments or situations that are difficult to replicate by using traditional teaching methods such as lectures, slideshows, or 2D videos.
A concise definition of VR's key characteristics is challenging due to the ever-changing nature of the technology. However, Sherman and Craig (
2003
) proposed that there are a number of constituent elements that must underpin the VR experience, ultimately leading to the life-like perception of the virtual environment. These include the necessity for VR to be immersive, in that the participant's own cognitive faculties produce a sense of being present and involved in the virtual space, often with reduced awareness of what is happening in the real-world around them. Additionally, the virtual space should offer a degree of interactivity, in that the user can manipulate the environment and test variables. This can include interacting with objects, virtual avatars, or even collaborating with other real-life users within the computer-generated space.
Definition of key terms
Due to the multidisciplinary nature of VR research and its pedagogical applications, it is important to define key terms used. VR can broadly be broken down into two main categories: desktop VR (D-VR), and immersive-VR (I-VR). D-VR is typically classified as non-immersive, in that a headset is not used, and the participant will be controlling and manipulating the virtual environment on a computer screen with traditional keyboard and mouse hardware (Lee et al.
2010
). On the other hand, I-VR is typically multi-modal in nature by providing a sense of immersion in the environment through 360° visuals by aid of a HMD, auditory stimulation through the use of earphones, and increasingly the proprioception of limbs by way of controllers and tracking (Freina and Ott
2015
; Howard-Jones et al.
2015
; Murcia-López and Steed
2016
). Although there are a range of HMDs on the market, from high-end hardware like the HTC Vive, to viable low-cost options like the Google Cardboard, they all utilise the same core principals of operation (Brown and Green
2016
). Typically, a HMD will feature a set of embedded liquid crystal displays (LCD) which will present each eye an image from a slightly different angle. This mimics natural optic function by allowing the wearer to view a stereoscopic image complete with depth perception and a wide field of view. Mobile VR headsets can achieve the same effect using a single display by dividing the screen down the middle and presenting each half to the corresponding eye. Therefore, the current review defines a HMD as a device worn over the head, which provides a stereoscopic computer-generated or 360
°
video image to the user. This includes tethered (connected to a computer), stand-alone (no computer needed), or mobile VR headsets (mobile/cell phone connected to a HMD).
Previous literature and reviews
There have been a number of systematic reviews that have previously explored the relationship between VR and pedagogical attainment. Lee (
1999
) reviewed 19 studies from as far back as 1976 and found that 66% of students in simulation groups outperformed those in their respective control groups. However, this review did not focus exclusively on an educational level or age range, so featured both young kindergarten children, as well as higher education students. As a result, the generalisability of VR's effectiveness as a pedagogical method is difficult to ascertain, with significant differences in age, task difficulty, and applications. Furthermore, all the studies are dated in terms of the technology utilised and feature early D-VR programmes and rudimental computer simulations. This early technology may be primitive when compared with the high-fidelity graphics and immersive components of contemporary technology. Nevertheless, these early studies do help exemplify that the use of technology in education is not a new concept, and computer-based simulations have long been employed as a way of facilitating learning.
A more recent analysis was undertaken by Merchant et al. (
2014
), and looked at three specific sub-categories of VR: games, simulations, and virtual worlds. Games give the actor autonomy and freedom to move around the virtual world, testing hypotheses, achieving goals, and eliciting motivation and learning through immersion (Gee
2004
). Simulations attempt to recreate a real-world environment that can help facilitate learning by allowing for the testing of variables and resulting outcomes. Finally, virtual worlds can provide an immersive or non-immersive sense of presence in a three-dimensional (3D) world, and the ability to manipulate, interact, or construct objects. Furthermore, virtual worlds can give the opportunity for multiple users to interact with one another within the digital environment (Dickey
2005
). The meta-analysis showed that although game-based VR produced the highest learning outcomes, simulations and virtual worlds were also effective at increasing educational attainment. Once again, the limitation of this review is that it did not restrict its analysis to exclusively one domain of education. Although higher education made up the greatest number of studies, research from elementary and middle school were also included in the analysis.
One of the most recent systematic reviews to look exclusively at I-VR through the utilisation of HMDs was carried out by Jensen and Konradsen (
2018
). In their comprehensive search of existing literature published between 2013 and 2017, the review identified 21 quantitative and qualitative papers that focused on both learning outcomes in I-VR, and subjective attitudes and experiences on the part of the user. The review found limited effectiveness of HMD in the acquisition of cognitive, psychomotor, and affective skills when compared with less immersive technologies. However, Jensen and Konradsen (
2018
) did highlight the relatively low quality of studies included as a concern, and this may impede the ability to draw firm conclusions about the educational utility of I-VR.
Rationale for review
There are several fundamental reasons that necessitate an updated assessment of the topic area, such as the increase in relevant published literature, as well as the narrow scope of previous reviews. The last major review looking at I-VR and HMDs as an educational tool was carried out by Jensen and Konradsen (
2018
), with the most recent studies featured in that paper being published in 2016. Since then, there has been a significant increase in relevant published literature, with > 70% of the papers included in the current review being published since 2017, and therefore not included in the previous systematic review. Additionally, unlike previous reviews, the current examination of I-VR's pedagogical utility focuses exclusively on studies where I-VR is directly compared to a less immersive method of learning. As a result, the current paper is able to highlight not only whether I-VR is an effective medium, but also whether it is more effective when compared to alternative methods. Additionally, no other systematic review looking at I-VR and HMDs has had a particular focus on the experimental design, assessment measures, and intervention characteristics of the included studies. The review also addresses the underlying methodology of the included studies, to offer an understanding of how I-VR is being employed in experimental literature. Based upon the findings of previous studies as well as areas yet to be sufficiently explored, this paper has a number of core research questions:
To assess the subject area, discipline, and learning domain that I-VR has been employed in.

Understand where I-VR confers an educational benefit in terms of quantitative learning outcomes over non-immersive and traditional teaching methods.

To examine the experimental design of studies, focusing on how learning outcomes are assessed, and how the I-VR intervention is delivered.

To inform future experimental and applied practice in the field of pedagogical I-VR application.
Methodology
Search strategy
The current systematic review included peer-reviewed journal articles and conference proceedings that passed all the inclusion criteria detailed. An initial scoping review identified seven databases that could be utilised in a comprehensive literature review, as well as associated keywords and search terms. These included Web of Science (Core Collection), Science Direct, Sage, IEEE Xplore, EBSCO, Taylor & Francis, and Google Scholar. These databases encompass a mixture of general, social science, and technological literature.
Each of the seven databases was searched using a series of keywords based on the following Boolean logic string:
("Virtual Reality" OR "Virtual-Reality" OR "Immersive Virtual Reality" OR "Head Mounted Display" OR "Immersive Simulation") AND (Education OR Training OR Learning OR Teaching)
Due to the scope and parameters of the research objectives, only peer-reviewed literature published between January 2013 and December 2018 was included in the final review. Early access articles due to be published in 2019 were also included if these were found using the database searches. Date criteria was based upon an initial scoping review that found a substantial growth in relevant I-VR literature from 2013 onwards. A major contributing factor was the release of the Oculus Rift Development Kit 1 (DK-1) in early 2013, which is regarded as one of the first economically viable and high quality HMDs that could be used both within educational institutions, and at home (Lyne
2013
).
The literature search across the databases yielded more than 12,000 references from a variety of sources. After the removal of duplicate records, 9,359 unique references were included for the title and abstract screening stage of the review.
Selection and screening
The open and general nature of the search string used led to a large number of references being returned for screening. As Jensen and Konradsen (
2018
) already alluded to in the last major review, VR research transcends various academic disciplines. The result is a lack of a clear taxonomy of definitions and terms. This means a wide net must be cast to ensure comprehensive capture of relevant material. This review defined I-VR as either a completely computer-generated environment, or the viewing of captured 360
°
video through the use of a HMD. Studies that utilised surgical or dental simulators and trainers such as the da Vinci Surgical System, were excluded as these represent a separate domain of both technological and pedagogical application. For example, surgical simulation based VR typically combines computer-generated visuals with simulated surgical tools, haptic feedback, and robotic components (Li et al.
2017
). This type of technology would therefore not be applicable for general pedagogical application. Additionally, references were excluded if they: (1) focused on using I-VR as a rehabilitation or therapeutic tool; (2) were not in English; or (3) where the full-text was not available.
After title and abstract screening was performed, 197 references remained to be included in the full-text review. Each reference had to pass an inclusion flowchart based on each of the following criteria:
1.
The population being sampled was from a high school, further or higher education establishment, or was an adult education student.
2.
Population sampled did not have a developmental or neurological condition, nor could VR be used as a rehabilitation tool.
3.
Paper described an experimental or quasi-experimental trial with at least one control group.
4.
At least one group had to have undergone an educational HMD I-VR experience, and was compared with another group who underwent a non-immersive or traditional pedagogical method of education (e.g. Desktop VR, PowerPoint, traditional lecture).
5.
A quantitative and objective learning outcome such as tests scores, completion time, or knowledge retention was used to assess effectiveness.
After full-text screening, 29 references passed all stages and were included in the systematic review. See Fig.
1
for a summary of the selection process by stage.
×
Inter-rater reliability checks were conducted at the title and abstract screening stage to assess the agreement of included studies. There were four individual evaluators that assessed the suitability of each reference based upon the inclusion criteria, which yielded an average agreement of 96%. Where any disagreement existed, the paper was discussed among all assessors until a unanimous decision was reached as to its suitability.
Quality assessment tool
To assess the quality of the studies, the
Medical Education Research Study Quality Instrument
(MERSQI) was used (Reed et al.
2007
). Although this tool was primarily designed to examine the quality of studies in the field of medical education, it is in practice subject neutral. As the MERSQI assesses not only the quality of experimental design and outcomes measures, but also the assessment instrumentation used, it was viewed as a suitable and comprehensive tool for quality appraisal. In addition, the same instrument was used in a previously peer-reviewed systematic review examining VR, by Jensen and Konradsen (
2018
).
The MERSQI tool covers six quality assessment domains. These include: study design, sampling, type of data, validity of evaluation instrument, data analysis, and outcomes. Each domain is scored out of three, with a maximum overall score of 18. Unlike Jensen and Konradsen (
2018
), the current review gave full points in the study design category for experimental trials with participant randomisation, as well as appropriate pre-intervention measures. This decision was made as true randomised control trials featuring random sampling is unrealistic in I-VR pedagogical research, as the participant sample can only be drawn from an educational establishment.
Results
Discussion and implications
The purpose of this review was to investigate I-VR's effectiveness as a pedagogical method in education, as well as examining the experimental design and characteristics of the included studies. In particular, the review found that the utilisation of I-VR is typically restricted to a small number of subject areas such as science and engineering. Furthermore, a heavy reliance has been placed on the MCQ and test score measures to assess learning outcomes. In addition, I-VR interventions were typically short and isolated, and were not complemented with additional or supplementary learning material. Despite this, most studies did find a significant advantage of using I-VR over less immersive methods of learning. This was the case particularly when the subject area was highly abstract or conceptual, or focused on procedural skills or tasks.
Conclusions
The current review found that I-VR conferred a learning benefit in around half of cognitive studies, especially where highly complex or conceptual problems required spatial understanding and visualisation. Although many studies found no significant benefit of using I-VR over less immersive technology, only a small number resulted in detrimental effects on learning outcomes. However, the homogenous nature of assessment instrumentation, such as an over reliance on the MCQ may have stifled the ability for participants to demonstrate learning outcomes beyond low level cognitive knowledge. Short exposure times and isolated interventions could also pose a problem as the novel nature of the technology could negatively impact the amount of learning able to be imbibed. Encouragingly, most procedural tasks did show a benefit to utilising I-VR, and furthermore, there was evidence that virtual skill acquisition could be transferred successfully to real world problems and scenarios. The ability to repeatedly practice a procedure in a safe environment whilst expending little resources could be one of the most advantageous and intrinsic benefits of I-VR technology. Although affective behavioural change has been widely studied in non-educational applications of I-VR, the domain was underrepresented in the current review, and is an important area for future investigation.
Over the coming years, technological advancement, an increase in creative content, and the possibilities for instructors to create bespoke I-VR experiences will all contribute to I-VR's potential as a teaching tool. It is essential therefore that the implementation of such technology is based on sound theoretical and experimental evidence in order to ensure that the I-VR is utilised correctly, and to its full potential.
Open Access
This article is licensed under a Creative Commons Attribution 4.0 International License, which permits use, sharing, adaptation, distribution and reproduction in any medium or format, as long as you give appropriate credit to the original author(s) and the source, provide a link to the Creative Commons licence, and indicate if changes were made. The images or other third party material in this article are included in the article's Creative Commons licence, unless indicated otherwise in a credit line to the material. If material is not included in the article's Creative Commons licence and your intended use is not permitted by statutory regulation or exceeds the permitted use, you will need to obtain permission directly from the copyright holder. To view a copy of this licence, visit
http://​creativecommons.​org/​licenses/​by/​4.​0/​
.
Publisher's Note
Springer Nature remains neutral with regard to jurisdictional claims in published maps and institutional affiliations.