01.08.2016 | Research Paper | Ausgabe 8/2016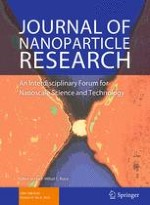 Immobilization of hydrogenase on carbon nanotube polyelectrolytes as heterogeneous catalysts for electrocatalytic interconversion of protons and hydrogen
Zeitschrift:
Autoren:

Jiang Liu, Wen-Jie Wu, Fang Fang, Nikolay A. Zorin, Meng Chen, Dong-Jin Qian
Abstract
Immobilization of active enzymes on the surfaces of electrodes and nanomaterials is important in the fields of bioscience, and biotechnology. In this study, we investigated electrocatalytic properties of the interconversion of protons and hydrogen by means of hydrogenase (H
2
ase)-functionalized carbon nanotube polyelectrolyte composites. Multiwalled carbon nanotube polyelectrolytes (MWNT-PEs) were synthesized through a diazonium and an addition reaction with poly(4-vinylpyridine) (P4VP), followed by another addition reaction with either methyl iodide (CH
3
I) or
N
-methyl-
N
′-benzyl bromide bipyridinium (VBenBr) to produce MWNT-P4VPMe or MWNT-P4VPBenV polyelectrolytes, respectively. The MWNT-PE@H
2
ase bio-nanocomposites were then prepared by means of MWNT-PEs as substrates to bind with H
2
ase. The redox current density of the MWNT-PE@H
2
ase-modified electrodes increased with a decrease in pH values of the Ar-saturated electrolyte solution owing to the catalytic reduction of protons (H
2
production); further, it increased with the increasing pH values of the H
2
-saturated solution owing to the catalytic oxidation of hydrogen. The reversible color change between blue-colored and colorless viologen (catalyzed by the MWNT-PE@H
2
ase bio-nanocomposites) suggested that they may be developed as nano-biosensors for molecular H
2
. The as-synthesized bio-nanocomposites showed strong long-term stability and high bioactivity.
Graphical Abstract
×