30.03.2020 | Original Article | Ausgabe 6/2020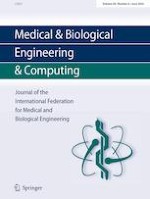 Immunohistochemical index prediction of breast tumor based on multi-dimension features in contrast-enhanced ultrasound
Zeitschrift:
Autoren:

Fang Chen, Jia Liu, Peng Wan, Hongen Liao, Wentao Kong
Wichtige Hinweise
Electronic supplementary material
Publisher's note
Springer Nature remains neutral with regard to jurisdictional claims in published maps and institutional affiliations.
Abstract
Breast cancer is the leading killer of Chinese women. Immunohistochemistry index has great significance in the treatment strategy selection and prognosis analysis for breast cancer patients. Currently, histopathological examination of the tumor tissue through surgical biopsy is the gold standard to determine immunohistochemistry index. However, this examination is invasive and commonly causes discomfort in patients. There has been a lack of noninvasive method capable of predicting immunohistochemistry index for breast cancer patients. This paper proposes a machine learning method to predict the immunohistochemical index of breast cancer patients by using noninvasive contrast-enhanced ultrasound. A total of 119 breast cancer patients were included in this retrospective study. Each patient implemented the pathological examination of immunohistochemical expression and underwent contrast-enhanced ultrasound imaging of breast tumor. The multi-dimension features including 266 three-dimension features and 837 two-dimension dynamic features were extracted from the contrast-enhanced ultrasound sequences. Using the machine learning prediction method, 21 selected multi-dimension features were integrated to generate a model for predicting the immunohistochemistry index noninvasively. The immunohistochemical index of human epidermal growth factor receptor-2 (HER2) was predicted based on multi-dimension features in contrast-enhanced ultrasound sequence with the sensitivity of 71%, and the specificity of 79% in the testing cohort. Therefore, the noninvasive contrast-enhanced ultrasound can be used to predict the immunohistochemical index. To our best knowledge, no studies have been reported about predicting immunohistochemical index by using contrast-enhanced ultrasound sequences for breast cancer patients. Our proposed method is noninvasive and can predict immunohistochemical index by using contrast-enhanced ultrasound in several minutes, instead of relying totally on the invasive and biopsy-based histopathological examination.
×