2009 | OriginalPaper | Buchkapitel
23. Immunological Effects of Probiotics and their Significance to Human Health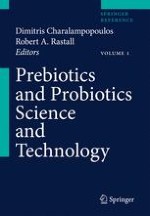 Erstes Kapitel lesen
Autoren: Harsharn S. Gill, Sunita Grover, Virender K. Batish, Preet Gill
Verlag: Springer New York
Abstract
Probiotics are defined as live microorganisms which when administered in adequate amounts confer a health benefit upon the host (FAO/WHO,
2001
). Lactic acid bacteria, particularly
Lactobacillus
and
Bifidobacterium
species are commonly used as probiotics. Other less commonly used probiotics include the yeast
Sacchromyces cerevisiae
and some non-pathogenic
Escherichia coli
and
Bacillus
species. Studies over the past 20 years have demonstrated that probiotic intake is able to confer a range of health benefits including modulation of the immune system, protection against gastrointestinal and respiratory tract infections, lowering of blood cholesterol levels, attenuation of overt immuno-inflammatory disorders (such as inflammatory bowel disease, allergies) and anti-cancer effects. However, the strongest clinical evidence for probiotics relates to their effectiveness in improving gut health and modulating (via stimulation or regulation) the host immune system. This chapter provides an overview of the current status of our knowledge regarding the immunostimulatory and immunoregulatory effects of probiotics on the immune system and their significance to human health.