2016 | Supplement | Buchkapitel
Impact of Blood Flow on Ocular Pathologies: Can Mathematical and Numerical Modeling Help Preventing Blindness?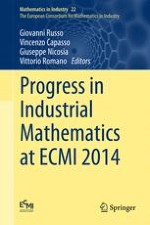 Erstes Kapitel lesen
Autoren: Paola Causin, Giovanna Guidoboni, Francesca Malgaroli, Riccardo Sacco, Alon Harris
Abstract
The pathogenesis of many blinding diseases, such as diabetic retinopathy, glaucoma or retinopathy of prematurity, is thought to be related to retinal tissue hypoxia. Yet, the mechanisms governing oxygen delivery to the retina are still poorly understood. Since it is not currently possible to disentangle the influence of all the concurring factors in retinal oxygenation during experimental and clinical measurements, mathematical models can serve as virtual laboratories to separately investigate the individual influence of different parameters. In this contribution, we propose a mathematical model which describes the oxygen profile along the whole retinal depth, including sources from blood circulation and tissue metabolic consumption. An analytical solution for the profile is computed and quantitative estimates of the sensitivity of retinal oxygen profiles to changes in geometrical and metabolic parameters of the retinal tissue are provided. In particular, this analysis highlights the important role played by the thickness of the different retinal layers and warns of potential issues when using experimental data across species.