2017 | OriginalPaper | Buchkapitel
Impact of Climate Change on Crop Production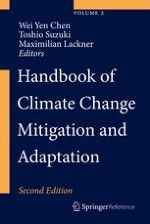 Erstes Kapitel lesen
Autor: Gamal El Afandi
Abstract
Changes in the atmospheric composition due to anthropogenic increase in greenhouse gases lead to changes in the radiative balance of the earth and consequent alterations in temperature, general wind circulation pattern, and weather patterns. The aftereffects of these changes are likely to manifest as major climate changes over the surface of the earth. Numerical models of the atmosphere have proved to be a very good tool in the assessment of the effect of increasing greenhouse gases on the earth's climate. These models predicted an increase in the earth's surface temperature during this century because of accumulation of greenhouse gases in the atmosphere. The effect of buildup of the sulfate aerosols in the atmosphere and its ability to increase the albedo of the atmospheric system, thereby cooling the atmosphere, has been recognized recently by the Intergovernmental Panel on Climate Change.
Agricultural activities are very sensitive to climate conditions. Agricultural decision-makers either are at the mercy of these natural factors or try to be benefit from them. The following decisions should not be made without knowing the elements of climate change.
Through the Decision Support System for Agrotechnology Transfer (DSSAT), the study for rice crop was carried out in order to define the impact of climate change on yield production in addition to flowering date, physiological maturity, and biomass at harvest.
The current work contains detailed analysis and investigation of possible changes up to 2017 (Egyptian strategy planning year). The results imply quiet remarkable changes in all agriculture parameters for this period, and sensitivity to climate variations was fairly detected.