2015 | OriginalPaper | Buchkapitel
Impact of Climatic Variability on Wheat Yield Predication using DSSAT v 4.5 (CERES-Wheat) Model for the different Agroclimatic zones in India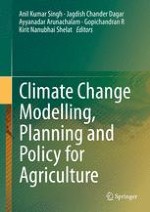 Erstes Kapitel lesen
Autoren: P. K. Singh, K. K. Singh, A. K. Baxla, L. S. Rathore
Verlag: Springer India
Abstract
The simulation models, with its complete ability, the soil-plant-atmospheric system, offer an ideal tool to analyze the response of wheat to the changing climatic conditions. Crop simulation model not only saves the accurate time but also the huge cost of experimentation. The CERES-Wheat vs. 4.5 crop growth simulation models was calibrated and evaluated for the different agroclimatic conditions of the wheat-growing area of India. In the present study, efforts are made to estimate the wheat yield for the years 2009–2010 using CERES-Wheat crop growth simulation model embedded in the DSSAT v4.5 software. Simulations were made under irrigated condition for the 15 wheat-growing locations representing different agroclimatic zones of the country. Daily weather data on maximum and minimum temperatures, rainfall, and radiation were used for 15 locations for the two winter seasons, current season (2009–2010) and previous season (2008–2009). Solar radiation required by the crop model was calculated from bright sunshine hours. Two dates of sowing representing normal (north India, 15 November; Uttar Pradesh, 10 December, and East India, 1 December) and late sown (north India, 25 November; Uttar Pradesh, 25 December, and East India, 15 December) conditions for each zone were taken up for the study. The genetic coefficient required for running the CERES-Wheat model was derived for the commonly grown cultivars, i.e., PBW-343, RAJ-3765, Malviya-234, HUW-234, and C-306, at different locations.
Model simulation results indicate that wheat crop yield in Uttar Pradesh during the crop season (2009–2010) is slightly affected due to the rise in temperature encountered at the grain-filling stage in the month of March. The simulated average yield for Uttar Pradesh was 47.8 and 46.8 q/ha for the years 2008–2009 and 2009–2010, respectively, under normal sown condition. Similarly in the case of East India, the simulated average yield is 34.7–42.3 q/ha and 52.2 and 54.5 q/ha for Northwest India. Under normal sown condition, wheat yield prediction during 2009–2010 is ~1 % less compared to 2008–2009 in Uttar Pradesh while there was an increase in grain yield by ~4 % in Northwest India and ~18 % in East India, respectively.
In case of a late sown condition, the crop model shows reduction in grain yield in Northwest India and Uttar Pradesh except for East India. During March 2010, maximum and minimum temperatures remained above normal almost throughout the month over most parts of the country. Maximum temperatures were above normal by 4–8 °C over northwest, east, central, and adjoining peninsular India.
Simulated average yield and deviation percentage for Northwest India and Uttar Pradesh were 53.6 and 51.2 q/ha (~4 %) and 50.2 and 38.3 q/ha (~23 %) for the years 2008–2009 and 2009–2010, respectively. Wheat yield production realized during 2009–2010 is higher compared to 2008–2009 in east India that shows 32.1 and 35.4 q/ha (~8 %). The objective of this study is to analyze the temperature trend so as to help the government agencies to design and adopt a suitable corrective measure of agricultural system.