14.09.2019 | Ausgabe 11-12/2019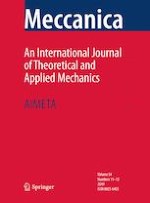 Impact of distortional hardening and the strength differential effect on the prediction of large deformation behavior of the Ti6Al4V alloy
Zeitschrift:
Autoren:

Víctor Tuninetti, Gaëtan Gilles, Paulo Flores, Gonzalo Pincheira, Laurent Duchêne, Anne-Marie Habraken
Wichtige Hinweise
Publisher's Note
Springer Nature remains neutral with regard to jurisdictional claims in published maps and institutional affiliations.
Abstract
The ability of three plasticity models to predict the mechanical behavior of Ti6Al4V until fracture is presented. The first model is the orthotropic yield criterion CPB06 developed by Cazacu et al. (Int J Plast 22:1171–1194, 2006) with a distortional hardening, allowing for the description of material anisotropy and the strength differential effect. The second model is the anisotropic Hill'48 yield criterion with distortional hardening, describing the material anisotropy with quadratic functions but is unable to model the strength differential effect. Finally, the third model is the classical Hill'48 yield locus with isotropic hardening. Distortional hardening is modeled through five yield surfaces associated with five levels of plastic work. Each model is validated by comparing the finite element predictions with experimental results, such as the load and displacement field histories of specimens subjected to different stress triaxiality values. Tensile tests are performed on round bars with a V-notch, a through-hole, and two different radial notches; compression tests are performed on elliptical cross-section samples. The numerical results show that none of the models can perfectly predict both the measured load and the sample shape used for validation. However, the CPB06 yield criterion with distortional hardening minimizes the global error of the model predictions. The results provide a quantification of the influence of mechanical features such as hardening phenomenon, plastic anisotropy, and tension–compression asymmetry. The impact of these features on the prediction of the post-necking deformation behavior of the Ti6Al4V alloy is explored.