2018 | OriginalPaper | Buchkapitel
Impact of Flooding on Roadways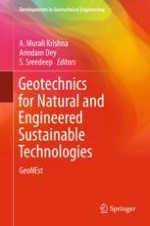 Erstes Kapitel lesen
Autoren: Rajib Basu Mallick, Mingjiang Tao, Nivedya M. K.
Verlag: Springer Singapore
Abstract
Flooding can cause extensive damages in roadways, particularly in those with granular base layers and thin asphalt mix surface layers. The objective of this paper is to present a summary of work conducted on the evaluation of the impact of flooding on pavements. Research shows that flood-induced damage occurs through various ways—weakening and washing away of granular base and soil subgrade layers, washing away of thin surface layers such as seals, and through erosion of subsurface materials near flowing water. Dislocation of concrete slabs due to washing away of subgrade soils during flooding has also been noted. Several models and frameworks have been developed to predict change in structural and surface properties such as roughness due to the impact of flooding. A number of models relating resilient modulus of soil to saturation and matric suction have been proposed. Researches have use both finite difference and finite element models to simulate flow of water through pavements. It has been confirmed that flow under unsaturated conditions is the dominant drainage mechanism in pavements. The role of base course material properties, trench backfill material, and drainage systems has been found to be crucial for drainage. The importance of considering the soil water characteristic curve information and an understanding of change in hydraulic conductivity for different saturation conditions has been emphasized.