2016 | OriginalPaper | Buchkapitel
19. Impact of Glacial Recession on the Vegetational Cover of Valley of Flowers National Park (a World Heritage Site), Central Himalaya, India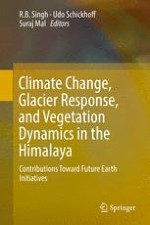 Erstes Kapitel lesen
Autoren: M. P. S. Bisht, Virendra Rana, Suman Singh
Abstract
With the growing threat of global warming, it has been projected that the Himalayan ecosystem will be severely affected. However, the nature and the magnitude of this ecosystem response are still elusive. Although the entire Himalayan region is prone to climatic perturbation, the high-altitude terrain is considered to be most fragile because of the presence of the microclimatic domain sustained by glaciers and snow line fluctuation (both long term and short term). Our recent observations in one of the most sensitive valleys of the Himalaya, the Valley of Flowers National Park, have shown that during the past 46 years the main Tipra valley glacier has receded 535 m. As a consequence, vegetation has appeared to occupy the vacated area. For the first time, three montane warm-loving species,
Pinus wallichiana
A.B. Jackson [at 3865 m above sea level (a.s.l.)],
Picea smithiana
(at 3700 m asl) (Wall.) Boiss., and
Populus ciliata
Wall. ex Royle (at 3712 m asl), have shown upward migration from the established altitudes of 2500 to 3800 m asl, from 2700 to 3700 m asl, and from 3000 to 3700 m, respectively. These observations are the very first suggesting that the alpine ecosystem has begun to respond to changes in temperature and precipitation during the past 50 years.