01.10.2019 | PHYSICS OF SEMICONDUCTOR DEVICES | Ausgabe 10/2019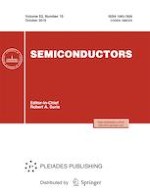 Impact of High-Energy Electron Irradiation on Surge Currents in 4
H

-SiC JBS Schottky Diodes
Zeitschrift:
Autoren:

A. A. Lebedev, V. V. Kozlovski, P. A. Ivanov, M. E. Levinshtein, A. V. Zubov
Wichtige Hinweise
Translated by M. Tagirdzhanov
Abstract
The effect of irradiation with high-energy (0.9 MeV) electrons on surge currents in high-voltage (operating voltage 1700 V) 4
H
-SiC Schottky
p-n
diodes is studied in the microsecond range of the forward-current pulse duration. With increasing irradiation dose Φ, the hole injection threshold steadily grows, and the base-modulation level by minority carriers (holes) becomes lower. At Φ = 1
.
5 × 10
16
cm
–2
, no hole injection is observed up to forward voltages of ~30 V and forward current densities of
j
≈ 9000 A/cm
2
.