2017 | OriginalPaper | Buchkapitel
6. Impact of Industrialization and Agriculture on the Haora River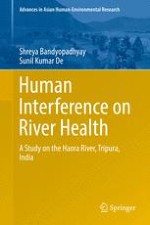 Erstes Kapitel lesen
Autoren: Shreya Bandyopadhyay, Sunil Kumar De
Abstract
Sadar Subdivision which is located along the Haora River is the most economically developed subdivision of West Tripura. Out of 1921 industrial units of West Tripura, 1239 industries are located within this subdivision. Also in the Haora River basin, excepting the residential areas in Agartala town and other urban areas, there are 48 types of industries within which the total number of industries is 358 (based on field survey data).
These 48 types of industries/manufacturing units of the Haora River basin have been categorised into 8 classes based on the types of materials used and the type of pollutants emitted. These are:
2.
Food-processing bakery/flour mill/biscuit/rice mill/dalmut/tea blending/noodles manufacturing/nakuldana
3.
Steel furniture/grill/rubber–latex processing/tyre/saw mill/wooden furniture/cotton ginning
4.
Dairy unit/poultry and cattle feed/broiler farm
5.
Automobile/chemical unit/LPG/fuel/pumping station/Gi net/candle
6.
Hotel–restaurant industry/ice factory/cold storage/plastic
7.
Electronic/computer centre/paper/xerox/printing
Among these eight types of industries, three types are found which are very large in number and they possess great impact on the Haora River. These are brickfields, automobile–chemical–fuel industries and hotel–restaurants.
In the Haora River basin, agricultural practice is an important occupation. In the year 1932, a total of 106.38 km2 of land was under agricultural practices among which 4.61 km2 of land was under shifting cultivation in forested land. In the year 2005, the area under agricultural practices has been increased to 121.17 km2 which can increase the problem of sedimentation and pollution to the Haora River.