2019 | OriginalPaper | Buchkapitel
Impact of Innovative Clothing Design on Caregivers' Workload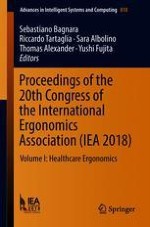 Erstes Kapitel lesen
Autoren: Karlien Van Cauwelaert, Veerle Hermans, Kristien Selis, Liesbeth Daenen
Abstract
Background
: Prevalence of musculoskeletal disorders in nurses is the highest for the back, followed by the shoulders and the neck. 'Dressing and undressing of patients' is experienced as a physically-demanding task by caregivers. But also for the patient: it is often uncomfortable and sometimes even painful. Due to many variations in patterns and fastening systems, the existing custom-clothing is not in accordance with the ergonomic rules.
Objective
: This study aimed at (1) investigating the impact of innovative custom-clothing on caregivers' physical workload (i.e. percentage of harmful postures at the neck, back and shoulders and duration of exposure to the physically-demanding task) and (2) examining its usability and comfort for caregivers as well as patients.
Methodology
: Eight caregivers and one healthy, elderly person (as patient) were included in the study. An innovative custom-clothing design with magnetic buttons was used to test the study hypothesis. Caregivers were asked to dress the patient (i.e. a pair of trousers, undershirt and shirt) according to 3 conditions: (1) with traditional clothing (control group), (2) with custom-clothing using press buttons (press button group) and (3) with innovative custom-clothing using magnetic buttons (magnetic button group). Duration of the dressing task was evaluated and postures of neck, back and shoulders were measured using Tea CAPTIV instrument. A structured questionnaire was used to evaluate its usability and feasibility.
Results
: Dressing time was significantly reduced in the magnetic and press button group compared to the control group (respectively p = .003 and p = .013). For postures of the back (i.e. rotation and forward flexion), neck (i.e. flexion) and shoulders (i.e. flexion), no significant differences were found between control, press button and magnetic button group (p > .05). The caregivers agreed that the innovative custom-clothing using magnetic buttons was easier and smoother in use.