09.11.2020 | Original Article | Ausgabe 1/2021 Open Access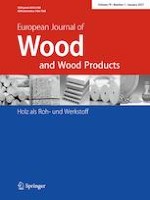 Impact of melamine and its derivatives on the properties of poly(vinyl acetate)-based composite wood adhesive
Zeitschrift:
Autoren:

Zuzanna Góral, Joanna Mastalska-Popławska, Piotr Izak, Paweł Rutkowski, Joanna Gnyla, Tomasz M. Majka, Krzysztof Pielichowski
Wichtige Hinweise
Publisher's Note
Springer Nature remains neutral with regard to jurisdictional claims in published maps and institutional affiliations.
1

Introduction

The motivation of the research is to create a fire-retardant adhesive whose joint forms a protective layer during the fire, which significantly limits the spread of fire. It is hoped that the adequate modification of the PVAc adhesive may improve its fire-retardant properties but also ensures fire protection of wood while maintaining its adhesive features.

Hence, the aim of this study was to obtain a PVAc-based adhesive formula with reduced flammability for bonding wood and wood-based elements. The following ceramic materials were selected as fillers:

Melamine, melamine phosphate or melamine polyphosphate were added in variable contents up to 7.0 wt% as the fire retardant. Endothermic processes occur during their decomposition and some part of the heat is absorbed, which results in a temperature decrease. During combustion, melamine polyphosphate may act as a char promoter, which enhances charring of polymer. The formed char could act as a thermal barrier for the heat transfer.
2

Materials and methods
2.1

Materials

A commercial poly(vinyl acetate) water dispersion (D2) used in this study was purchased from Dragon, Poland. D2 is a water-resistant wood adhesive with durability class D2. The other raw materials (fire retardants and fillers) were as follows: melamine (EasyChem, Poland), melamine phosphate—Ecoret MP (Alwernia, Poland), melamine polyphosphate—Ecoret MPP (Alwernia, Poland), aluminium oxide (Chempur, Poland), kaolin KOC with mineralogical composition of 84.21 wt% kaolinite, 11.17 wt% quartz and 4.62 wt% mica (Surmin-Kaolin, Poland), glass fibre filler—FG 400/030 (Schwarzwälder Textil-Werke, Germany), silica—Arsil (Chemical Plant "Rudniki", Poland).

Oak wood panels (thickness of 8.0 mm, density of 690 kg/m 3) and beech wood panels (thickness of 1.4 mm, density of 750 kg/m 3) were used for joint and flammability tests, respectively.
2.2

Preparation of the adhesive mixtures

Disperlux-Pendraulik laboratory dissolver was used to blend D2 with selected components. Several adhesive mixtures consisting of a constant content of alumina (Al

2

O

3

), kaolin (KOC), glass fibers (FG), silica (SiO

2

) and different loadings of melamine compounds (melamine—M, melamine phosphate—MP, melamine polyphosphate—MPP) from 0 to 7 wt% were prepared. In addition, distilled water was used to improve their rheological properties. The composition of the adhesive mixtures is presented in Table

1

. The samples were mixed at 500 RPM for 30 min, and each component was added into the mixture separately and in the following order: water, Al

2

O

3

, FG, KOC, melamine additive, and SiO

2

at the end because of its high water absorption.

Table 1

Composition of the tested adhesive mixtures
Sample name

Addition [wt%]

D2

M

MP

MPP

Water

FG

KOC

Al 2O 3

SiO 2

M0

75.0

–

–

–

7.5

5.0

5.0

5.0

2.5

M1

71.5

3.5

–

–

M2

68.0

7.0

–

–

M3

71.5

–

3.5

–

M4

68.0

–

7.0

–

M5

71.5

–

–

3.5
2.3

Viscosity measurement

The viscosity of the adhesive mixtures was examined using an Anton Paar Physica MCR-301 rheometer in a plate–plate configuration (plate diameter was 25 mm). The shear rate was 100 s − 1, measuring gap was 0.2 mm, measurement time was 600 s and temperature was 23 °C.
2.4

pH measurement

The pH of the samples was measured at room temperature using a Jenway 3540 pH meter.
2.5

Shear strength measurement

The effect of ceramic and melamine compounds addition on adhesive bond strength of PVAc was examined by means of a longitudinal tensile shear strength test. Two oak panels (160 mm × 23 mm × 8 mm) were bonded on the tape (bonded surface 23 mm × 23 mm) by an adhesive mixture with 945 g/m 2 coverage (0.5 g per sample). The panels were pressed at a pressure of 0.38 kg/cm 2 for 1 min. The samples were dried at room temperature for 1 day, and then at 40 °C for 3 days in a laboratory dryer. After this time, they were conditioned for 7 days in the standard climate until the measurement. The shear test was carried out with a constant crosshead speed of 2 mm/min using a Zwick-Roell Z050 testing machine.

Shear strength

τ

[MPa] was calculated using the formula:

τ = F

max

/A

, where

F

max

[N] is the maximum failure load, and

A

[mm

2

] is the bonded test surface (23 mm × 23 mm). Tests were replicated ten times.
2.6

Thermal analysis

Thermal properties of adhesive mixtures were tested using differential scanning calorimetry (DSC) and thermogravimetry (TG). The measurements were taken in air atmosphere using a Netzsch STA 449 F3 thermal analyzer. The samples were heated from 25 to 740 °C with a heating rate of 10 °C/min in aluminum oxide crucibles and with an air flow rate of 40 cm 3/min.
2.7

Pyrolysis combustion flow calorimetry

The combustibility of adhesive mixtures was evaluated by applying a Pyrolysis Combustion Flow Calorimeter (PCFC) from Fire Testing Technology (FTT). 5 ± 1 mg of adhesive powder sample was heated under nitrogen flow up to 750 °C with a heating rate of 1 °C/s in the pyrolysis chamber. Then, the volatile thermal degradation products were combined with oxygen and completely oxidized in a combustion furnace at 900 °C. The gas flow was a mixture of O 2/N 2 with a flow rate of 20/80 cm 3/min.

The material's fire hazard can be determined by the rate at which heat is released during its burning. Heat release capacity (sumHRC) in J/g K was calculated by a ratio of the sum of peak HRR (pHRR—the maximum heat release rate) to the average heating rate in K/s. The total heat release (THR) in kJ/g was equal to the area below the curve of the heat release rate as a function of the pyrolysis temperature. The residue was obtained by weighing a sample before and after the measurement (Lyon and Walters

2004

; Schartel et al.

2007

).
2.8

Horizontal burning test

To verify the effect of the tested adhesive on wood flammability, 5 samples for each composition type were prepared for the horizontal burning test (HB). Two plates of beech wood with dimensions of 130 mm × 13 mm and a thickness of 1.4 mm were joined by the glue line (1.5 g). Then, after drying the samples at room temperature and smoothing their edges, they were stabilized for 7 days at 23 °C and 50% relative humidity. The horizontal burning test was carried out according to IEC 60695-11-10 (

2014

). Each test specimen was marked with two lines perpendicular to the longitudinal axis of the sample (130 mm), 25 mm and 100 mm from the end, which was to be exposed to the flame from a burner inclined at an angle of 45° to the horizontal axis (Fig.

1

). The burner was removed from the sample after 30 s or earlier if the flame front reached the 25 mm mark. Flame propagation time

t

in s from the 25 mm mark to the 100 mm mark and damaged length

L

in mm (between 0 and 75 mm) were measured. Linear burning rate

v

in mm/min was calculated, using the following equation:

v

 = 60 L/t. The samples were classified as HB40 or HB75 material in accordance with the criteria given in Table

2

.
Table 2
HB classification for a sample thickness of 3.0 mm
Classification

HB40

HB75

A material shall conform to one of the following criteria

It does not burn with a flame after the ignition source is removed

If the test specimens continue to burn with a flame after removal of the ignition source, the flame front does not pass the 100 mm mark

If the test flame front passes the 100 mm mark and it does not have a linear burning rate exceeding 40 mm/min

If the test flame front passes the 100 mm mark and it does not have a linear burning rate exceeding 75 mm/min
×
4

Conclusions

Tests on the formulation of a fireproof adhesive for bonding wood and wood-based elements were presented. The impact of ceramic fillers, melamine and its derivatives to D2 commercial wood adhesive based on the poly(vinyl acetate) water dispersion was investigated. Ceramic compounds such as alumina, silica, kaolin and glass fibers were added as nonflammable fillers. One of the melamine's compounds (melamine, melamine phosphate or melamine polyphosphate) was added to the PVAc dispersion as the fire retardant. The impact of melamine, melamine phosphate and melamine polyphosphate was compared.

The ceramic fillers addition (17.5 wt% total) has a positive effect on thermal stability and fire properties of D2 adhesive. Mass loss, heat release capacity and total heat release were reduced by about more than 30%. Kaolin, glass fibers, alumina and silica fulfilled their function as fire retardants.

The additional incorporation of melamine compounds into the adhesive composition caused a further improvement of some parameters. Generally, they influenced THR, HRC, pHRR and linear burning rate. They did not affect the total mass loss but caused a delay in the PVAc degradation. The shift of their third (and last) decomposition step towards higher temperatures was identified. The results indicate a better effect of melamine phosphate on the prepared adhesive mixture than pure melamine because of lower viscosity, total heat release, heat release capacity and linear burning rate, and higher strength and temperature of degradation. However, melamine caused a higher reduction in the maximum heat release rate (pHRR 2), but one additional peak overlapped this phenomenon. Moreover, melamine polyphosphate could not be used in this composition because of its too high water absorption. Viscosity and consistency of sample M5 were not adequate for the adhesive.

Thanks to the used additives, an improvement of the strength, thermal and fireproof properties of some adhesive mixtures was obtained compared to the pure poly(vinyl acetate) dispersion. Taking all tests into account, the best parameters were obtained for the sample with 7.0 wt% of MP addition—M4. In comparison to D2, a slight improvement in the shear strength of about 0.3 MPa, a temperature shift of the final degradation of PVAc of about 54 °C, and a reduction in total mass loss of about 30.5 wt%, of THR of about 8.4 kJ/g (37%), of sumHRC of about 149 J/g K (35%) and of linear burning rate of about 17 mm/min (41%) were obtained. However, the increased MP content from 3.5 (M3) to 7.0 wt% (M4) only slightly improved the flammability parameters.

The research demonstrated that M3 and M4 adhesives can have a potential application as fire retardant adhesives designed for bonding wood and wood-based elements.
Acknowledgements
This research did not receive any specific grant from funding agencies in the public, commercial, or not-for-profit sectors.
Compliance with ethical standards
Conflict of interest
On behalf of all authors, the corresponding author states that there is no conflict of interest.
Open Access
This article is licensed under a Creative Commons Attribution 4.0 International License, which permits use, sharing, adaptation, distribution and reproduction in any medium or format, as long as you give appropriate credit to the original author(s) and the source, provide a link to the Creative Commons licence, and indicate if changes were made. The images or other third party material in this article are included in the article's Creative Commons licence, unless indicated otherwise in a credit line to the material. If material is not included in the article's Creative Commons licence and your intended use is not permitted by statutory regulation or exceeds the permitted use, you will need to obtain permission directly from the copyright holder. To view a copy of this licence, visit
http://​creativecommons.​org/​licenses/​by/​4.​0/​
.
Publisher's Note
Springer Nature remains neutral with regard to jurisdictional claims in published maps and institutional affiliations.