01.08.2014 | Ausgabe 9/2014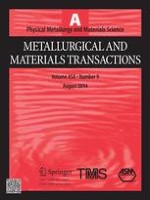 Impact of Volume Fraction and Size of Reinforcement Particles on the Grain Size in Metal–Matrix Micro and Nanocomposites
Zeitschrift:
Autoren:

J. B. Ferguson, Hugo F. Lopez, Pradeep K. Rohatgi, Kyu Cho, Chang-Soo Kim
Wichtige Hinweise
Manuscript submitted January 21, 2014.
Abstract
In metal–matrix micro and nanocomposites (MMCs and MMNCs), the presence and interactions of various strengthening mechanisms are not well understood, but grain boundary strengthening is considered as one of the primary means of improving the yield strength of composites. Owing to the importance of grain size on mechanical properties, it is necessary to be able to describe how incorporation of nanoparticles (NPs) in both powder metallurgy (PM) and solidification processing (SP) affects this critical property. In the present work, we provide a basis for an empirical equation that relates particle fraction and particle size to MMNC grain size for both PM and SP synthesis methods. The model suggests that NPs retard grain coarsening in PM MMNCs and also seems to describe the effect of reinforcement concentration on grain size in SP MMCs and MMNCs.