01.09.2012 | Original Paper | Ausgabe 10/2012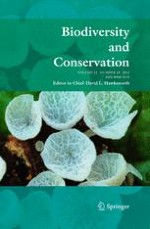 Impacts of Argentine ants on invertebrate communities with below-ground consequences
Zeitschrift:
Autoren:

Margaret C. Stanley, Darren F. Ward
Abstract
The Argentine ant,
Linepithema humile
(Mayr), is an invasive species that has been associated with various negative impacts in native communities around the world. These impacts, as for other invasive ants, are principally towards native ant species, and impacts on below-ground processes such as decomposition remain largely unexplored. We investigated the relationship between Argentine ants and invertebrate fauna, litter decomposition and soil microbial activity between paired invaded and uninvaded sites at two locations in Auckland, New Zealand, where there has been no research to date on their impacts. We examined the diversity and composition of invertebrate and microorganisms communities, and differences in soil and litter components. The composition of invertebrates (Order-level, ant and beetle species) was different between invaded and uninvaded sites, with fewer ants, isopods, amphipods, and fungus-feeding beetles at the invaded sites, whereas Collembola were more abundant at the invaded sites. There were significant differences in soil chemistry, including higher carbon and nitrogen microbial biomass at uninvaded sites. Several litter components were significantly different for
Macropiper excelsum
. The fibre content of litter was higher, and key nutrients (e.g. nitrogen) were lower, at invaded sites, indicating less breakdown of litter at invaded sites. A greater knowledge of the history of invasion at a site would clarify variation in the impacts of Argentine ants, but their persistence in the ground litter layer may have long-term implications for soil and plant health in native ecosystems.