01.04.2014 | Original Paper | Ausgabe 4/2014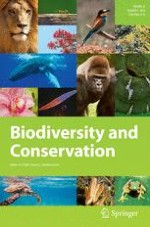 Impacts on invertebrate fungivores: a predictable consequence of ground-cover weed invasion?
Zeitschrift:
Autor:

I. E. Bassett
Wichtige Hinweise
Communicated by David L. Hawksworth.
Abstract
Empirical impact evidence exists for few of New Zealand's environmental weeds. Financial constraints prevent managers examining all impacts of all weeds. Therefore it is useful to seek generalisable rules which allow managers to predict impacts of new invasions. Invasive weeds may indirectly affect fungivorous invertebrates through mechanisms such as altered litter-fall, decomposition rates, and microclimate, all of which may alter fungal activity. I tested the hypothesis that fungivorous invertebrates would be consistently affected by three invasive weeds, and that this effect would be more pronounced than for other invertebrate functional groups. Using pitfall traps, I compared invertebrates beneath climbing asparagus, tradescantia and ginger with invertebrates of uninvaded lowland forest. Five out of six Coleoptera taxa which differed in abundance between invaded and uninvaded sites were fungivores; the remaining taxon was a saprophage. At least two taxa of fungivorous Coleoptera responded to each of the three weed species. Acari (mainly Oribatids, some of which are fungivores), Isopoda and Amphipoda (decomposers) were the only taxa to respond to the presence of all three weed species. These results provide some support for the hypothesis that fungivores are particularly responsive to ground-cover weed invasion, but suggest this could be extended to include decomposers as well. However, the direction of effect differed among weed species. Therefore, while changes in fungivore and decomposer abundance may be predicted as one of the more likely consequences of ground-cover weed invasion in New Zealand low-land forest, site- and taxa-specific effects make it difficult to predict the direction of effect.