2016 | OriginalPaper | Buchkapitel
Impedance Matching and BALUNs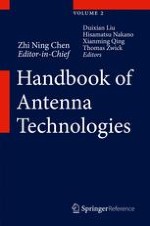 Erstes Kapitel lesen
Autor: Homayoon Oraizi
Verlag: Springer Singapore
Abstract
In this chapter, the subject matters of impedance transformation and BALUNs are studied, which should be designed for inclusion in the input ports of transmitter and receiver antennas. The Smith chart is commonly used for the design of lumped and distributed circuits for impedance matching in the technical journals and textbooks. Its explanations and usage are readily accessible in the available textbooks. However, the method of least squares is developed here for the design and optimization of various circuits of impedance transformers for microwave and higher-frequency circuits.
The topics discussed here include the following:
The concept of impedance, transmission lines, power gains, varieties of matching networks, impedance transformer design by the method of least squares, the quarter-wave line, theory of small reflections, multi-section transformers, design of step-line transformers, design of taper lines, devices and components for impedance matching, and BALUNs including waveguide and planar circuit implementations.