01.01.2014 | Original Paper | Ausgabe 1/2014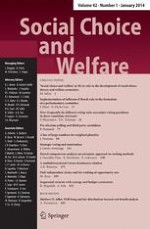 Implementation of Jefferson-d'Hondt rule in the formation of a parliamentary committee
Zeitschrift:
Autoren:

Joaquín Pérez, Omar De la Cruz
Abstract
Same parliaments, to form a committee of size
\(q\)
, use a voting process like the following: every parliamentary member votes for one out of a fixed set of candidates, and those
\(q\)
candidates receiving more votes are elected for the committee. Assuming total discipline of vote, this is a game form in which players are the parliamentary groups. We investigate, according to some natural hypotheses about preferences, the likely distribution of the members of this committee. The main results are: (a) when fractional votes are allowed, there is a complete agreement between the distribution among the groups of the elected candidates that are outcomes of a Nash equilibrium and the distribution that, according to the size of the groups, would compute the Jefferson-d'Hondt allocation rule, and (b) when fractional votes are not allowed, there is a near agreement for a majority of situations.