01.12.2009 | Ausgabe 1-4/2009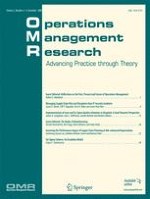 Implementation of Lean and Six Sigma quality initiatives in hospitals: A goal theoretic perspective
Zeitschrift:
Autoren:

James R. Langabeer, Jami L. DelliFraine, Janelle Heineke, Ibrahim Abbass
Abstract
Organizational quality improvement practices have gained wide acceptance in manufacturing industries over the last several decades. A substantial number of books have been written on Lean and Six Sigma alone, which today are the leading improvement initiatives. The healthcare industry however has been slower to adopt these methods, although anecdotal evidence suggests they are now being gradually diffused throughout hospitals on an increasing basis. Yet, these new practices have been developed substantially without a theoretical foundation (Linderman et al. J Oper Manag 21:193–203,
2003
) and the question of industry "fit" is the topic of debate for many physicians and administrators (Kassirer N Engl J Med 339:1543–1545,
1998
). This article provides the descriptive results from our mixed methods research, combining survey questionnaire with semi-structured interviews, that examines implementation of two quality improvement initiatives (Lean and Six Sigma) in a cross-sectional sample of hospitals. We used correlations and non-parametric tests to examine relationships between goal attainment and quality management, and present descriptive findings about reported usage and adoption of quality initiatives. Importantly, we find that the efficacy of quality improvement initiatives in healthcare may be impeded by the lack of goal clarity and measurement. We build on these initial results by offering recommendations to improve results in practice, as well as an agenda for further research of quality initiatives in healthcare. The objectives of our research are to better understand how Lean and Six Sigma fit in the healthcare industry and to explore goal and value attainment from these projects.