29.04.2016 | Ausgabe 2/2017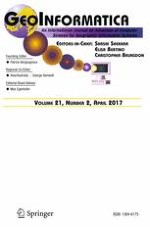 Implementing set operations over moving regions using the component moving region model
Zeitschrift:
Autoren:

Mark McKenney, Rakeem Shelby, Sheetal Bagga
Abstract
Many natural phenomena are intuitively represented as spatiotemporal data objects, or
moving objects
. For example, vehicles, rivers, hurricanes, low pressure systems, areas of high density of foliage, etc align well with a geometric representation, and all change position or shape over time. Moving object models exist that represent real world objects as point, line, and region geometries that change continuously over time, leading to research into spatiotemporal analysis functionality over these objects. Models of moving objects are ideal for representing data streams that record the motion of spatial data over time. However, the implementation of operations to support spatiotemporal analysis over moving objects, particularly over moving regions, has proven difficult. In this paper, we develop a mechanism to support the implementation of the set operations of intersection, union, and difference between pairs of moving regions. The mechanism builds on the Component Model of Moving Regions and the semantic specifications of its operations. Specifically, we develop a generalized method of computing an intermediate data structure from which the results of various operations are then derived. The mechanism utilizes well-known 2D and 3D operational primitives and achieves
O
(
n
lg
n
) time complexity using appropriate data structures.